Sign up and get
5%off on your reservation
Cantallops, Alt Empordà, Girona
Standing on the hills of the serra de l'Albera, with spectacular viwes of the plain of the Empordà and the Mediterranean sea, the Hotel Can Xiquet has 17 confortable rooms and a restaurant specialising in Mediterranean cuisine. The hotel offers a wide range of active tourism opportunities for holiday adventure.
The hotel has recreational facilities such as a private, open-air salt water swimming pool, a paddle tennis court, a sauna, a gymnasium and an outdoor playground area for children.
Can Xiquet has large salons for events and spacious gardens, ideal for holding weddings and corporate events.
It is a few kilometres from La Jonquera, the border between France and Spain, and it also has a heliport.
Pont de Molins, Alt Empordà, Girona (12km from Cantallops)
El Moli hotel, lying in the very heart of Empordà by the river Muga amidst cornfields and olive groves, has been set up by Lladó family. An ancient mill, which goes back to the XVII century, has been turned into a warm and comfortable Hotel-Restaurant. It is a place perfect to relaxing and enjoying the nature. The Old flour mill was initially restored as a restaurant
The hotel offers 14 rooms; 6 masia rooms located in the main house and 8 Superior rooms.
8 Superior rooms with double bath with views to the nature, terrace, comfortable beds … and 6 Masia renovated rooms with all that you need, double bath and the comfort and relax that you deserve.
On awaking at El Molí Hotel you may hear both the murmuring of the river and the song of birds and breathing nature's fresh air as well.
Both parts are completed by some areas such an outdoor swimming pool, petanque, bikes and garage. It is a responsible and innovative building, which preserves his beautiful environment while offers calm and relax. And it combines perfectly with the restaurant where you could taste seasonal dishes with our region products.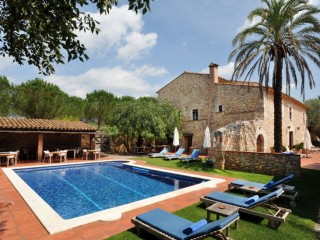 Avinyonet de Puigventós, Alt Empordà, Girona (18km from Cantallops)
15th century farmhouse located in the heart of Alt Empordà, right where begins the plain and the mountains, near the town of Figueres.
It has 13 rooms with maximum comfort and a natural and total tranquility.
In the restaurant, the Falgarona, you can taste traditional Mediterranean cuisine prepared by our chef.
Maçanet de Cabrenys, Alt Empordà, Girona (15km from Cantallops)
In the middle of the Pyrenees and ten minutes from the French border, at Hotel Els Caçadors you will be able to enjoy the best family atmosphere and an ideal setting for hikers, hunters, wild mushroom pickers and nature lovers. The hotel, which offers excellent homemade cuisine, has 20 rooms with bathroom, TV and telephone.