Sign up and get
5% off on all your reservations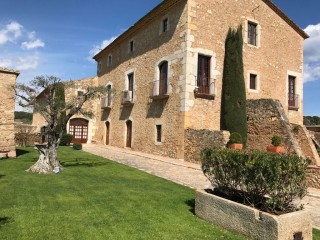 L'Escala, Alt Empordà, Girona
Hotel Molí de L'Escala is housed in a former flour mill with over 23 centuries of history, that has been completely renovated. Its stones bring to mind the Greco-Roman past of Empúries with the Heraklion Way, the first main means of communication, crossing through the building. It also preserves some features from the 12th, 17th and 19th centuries.
Firmly established as one of the best restaurants in the Empordà region, the Molí de L'Escala has now become a gastronomic hotel, ideal for enjoying the environment and its great cuisine. It has five new rooms, which have been equipped with modern, functional fittings and features for your comfort.
Hotel Molí de L'Escala has five new rooms: two suites, two luxury double rooms and one family room with a mezzanine. All the rooms have been refurbished respecting the structure of the building and are large, diaphanous areas for an enjoyable stay.
L'Escala, Alt Empordà, Girona
Hotel Can Miquel is located on the beach of Cala Montgo, just 4 km from the center of L'Escala, Alt Emporda. Cala Montgo is an example of the real Costa Brava, the Massif Montgrí ending abruptly in cliffs framing a sandy beach.
The hotel has 37 double rooms, 4 of which are wheelchair accessible and 2 with garden, all recently refurbished. All our rooms are double convertible triples, bright, with a full bathroom and have a terrace overlooking the pool and the mountains that form part of the Montgrí massif or to the garden area. The superior rooms are double convertible in family, with capacity of up to 4 people, more spacious and luminous.
Part of its facilities a swimming pool, heated pool (no cover), two tennis courts, gardens, garage exclusively for guests, a restaurant with a terrace overlooking the beach and a grilled meat restaurant outdoors right in front the sea. A place to enjoy the tranquility and beauty of the Costa Brava.