Olost de Lluçanés is a small village in the province of Barcelona, Catalonia, Spain. It has less than 1,200 people, situated on a plain 669 meters above sea level at 20 km from Vic in the center of the ancient shire or comarca of the Lluçanès, at present in the comarca of Osona. In the center of the village stands the beautiful church of Santa Maria d'Olost of monumental size, with a large façade and two bell towers. Its construction started in the 10th century and ended in the 18th century. Near Olost are the two small settlements of Santa Creu de Jutglars (built in 984) and the Vila with Sant Gil de la Vila (build in 1038) and the unusual Castell d'Olost build in 1155 with added elements of the 14th and 15th centuries, that lies in a depression next to a stream in the district of Orista. Even though it was a fortified farm it has the structure of a castle, it is nearly hidden from view no doubt for protection in the Middle Ages .
Hotels in Olost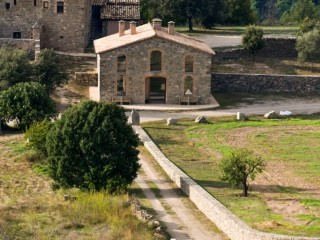 Sant Joan d'Oló, Moianès, Barcelona (18km from Olost)
L'Espinalt is located in Santa Maria d'Oló, in the heart of Catalonia, in a wooded and quiet environment, with privileged views, ideal to enjoy walks or bike rides, for couples or families.
Not available
for these dates