The municipality of Navata is located in the depression of Empordà, between the rivers Manol and Fluvià. The watercourse of Àlguema runs through it from west to east, and is surrounded by dryland fields, flat and extensive.
On the northern side is the mountain, and to the west we can see the peak of Mare de Déu del Mont, the final destination of many excursions, "aplecs" and sports activities in the area. The town borders to the north-east with Lladó, a small town though of great architectural interest and with a long-standing cheese-making tradition.
Hotels in Navata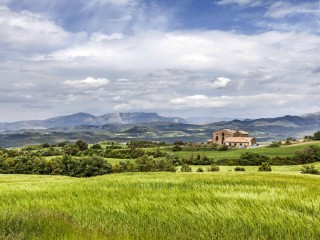 Lladurs, Solsonès, Lleida (16km from Peramola)
Casa Albets is a cozy ecological hotel. Located in the heart of Lladurs (Solsonès), in a farmhouse dating from the s.XI. The hotel has 9 rooms and a kitchen restaurant prepared with preferably ecological products and Km0.
Lladurs, Solsonès, Lleida (19km from Peramola)
Located in a large farmhouse of the year 1036 restored preserving the original charm, with large pool, restaurant of Catalan cuisine and rooms with their own personality, with all the comfort of a luxury hotel.