Solsona is the capital of Solsonès. The municipality maintains the same structure when it was a walled city retains three portals of entry: the Bridge, the Castle and the Llobera.
In the cultural offer, find the Diocesan Museum and District Museum and Cutting Tools. As a noteworthy architectural heritage Solsona find Cathedral, consecrated in 1163.
His environment is ideal for outdoor sports like hiking and biking or snow, because just a 40 km there is the ski resort of Port del Compte.
Hotels in Solsona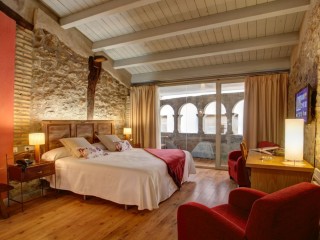 Solsona, Solsonès, Lleida
Small great hotel boutique, modern and comfortable, situated in the medieval centre of the hospitable, quiet city of Solsona, the doorway to the Pyrenees from Lleida. Its charm lies in the tranquillity that pervades the stone walls, the wooden beams, the fireplace, the garden room and so on... There are ten spacious rooms with natural daylight and fully equipped with all kind of conveniences. The breakfasts we serve only contain local, traditionally-prepared products. The Hotel La Freixera is a hotel who respects the environment by introducing ECO shower heads in some rooms and for a commitment to modernity, installing the opening of the doors through the mobile application (Openow System).