Fishing village in the municipality of Palafrugell. The beach is the longest of the municipality and has a marina where you can perform various nautical and aquatic activities.
Llafranc has a stretch of road that winds round the coast.
Located on the top of the mountain of Llafranc there's the lighthouse of San Sebastian, with a history of more than 150 years and a magnificent view of the Costa Brava. Next to it, is the Iberian settlement of San Sebastian de la Guardia.
Hotels in Llafranc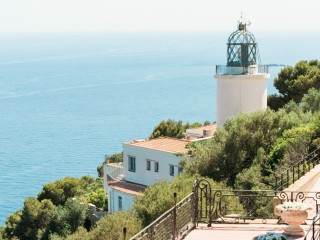 Llafranc, Baix Empordà, Girona
An old XVIII Century Inn located alongside a hermitage and a watchtower on one of the highest headlands in the Mediterranean. It has a central courtyard which separates the hotel from the hermitage, with spectacular terraces and a restaurant. The only one of its kind to enjoy both spectacular views over both the sea and the beaches of Tamariu, Llafranc and Calella de Palafrugell. It is an incomparable balcony overlooking the Costa Brava and the Empordà.