Camós is an ancient town in the province of Gerona, located south of the Pla de l'Estany, near Banyoles. The town is known for its important findings from Roman times. The story revolves around the building of two churches: San Vincente and Santa Maria.

The town, surrounded by the river Matamors for the band the north and the river on the south side Revardit. The country road that leads up from Banyoles Camós and continues to Palol of Revardit, what makes a people easy access.
Hotels in Camós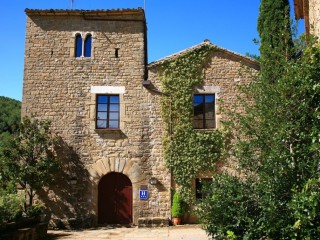 Camós, Pla de l'Estany, Girona
Historical building situated at the bottom of a valley, next to the Sant Vicenç de Camós Church whose noble stone tells us of its past. Its Gothic hall is fitted out as a restaurant, its wathctower has a fireplace and library, and a hall made ready for events and a its areas of gardens with its swimming pool.