The heart of Catalonia: Manresa, Vic and Solsona
El centro de Cataluña es uno de los destinos rurales más populares tanto para visitantes de Cataluña como para visitantes de España. Su proximidad con Barcelona, su fácil acceso y los parajes naturales que alberga, la convierten en un lugar ideal para una escapada de fin de semana.
Os propongo una ruta para descubrir el corazón de Cataluña, siguiendo los parajes más bonitos de las comarcas del Bages, Osona y Solsonés.
QUÉ VISITAR CERCA DE MANRESA
Bages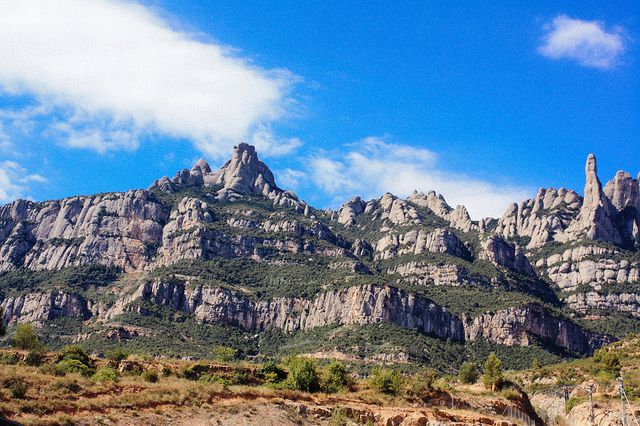 En el Bages descubriréis también monasterios (Món Sant Benet), molinos hidráulicos, colonias fabriles y castillos. El de Balsareny es uno de los pocos castillos regulares y homogéneos de la Cataluña central. Pero por castillos y fortalezas, acercaos a Cardona. La "fortaleza inexpugnable" merece una visita, igual que las minas de sal que hay muy cerca, también en Cardona.
Conoceréis también pueblos encantadores como Mura, Navarcles, Pont de Vilomara i Rocafort, Sant Fruitós de Bages y Talamanca. Todos ellos son pueblos de las Valls del Montcau, que se encuentran en medio del escenario del Parque Natural de Sant Llorenç del Munt i l'Obac.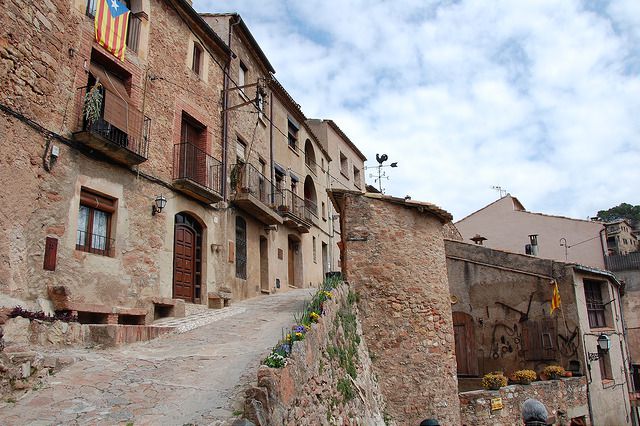 Para los fans de la espeleología y la geología (y el llamado "geoturismo"), y como actividad singular, no os perdáis el Parque Geológico y minero de la Cataluña Central, donde podréis explorar las Cuevas del Toll, las Cuevas de Salitre y el Museo de Geología Valentí Masachs, entre otros.
Por último, apuntad en la agenda que el primer fin de semana de noviembre tiene lugar la Feria Mediterránea, que es una feria de espectáculos de raíz tradicional y el fin de semana posterior al 21 de febrero, se celebra la Feria del Azada (el mercado medieval de la Fiesta de la Luz).
¿Dónde dormir?
La Masia del Solà (Monistrol de Calders). Este conocido restaurante abierto en 1946 de cocina tradicional catalana ha recuperado recientemente su fonda con 8 junior suites que incluyen hidromasaje.
Hotel Urbisol (Calders). Lujoso, moderno y muy cómodo, un hotel para el descanso y bienestar. No os perdáis el spa.
La Garriga de Castelladral (Castelladral). La Garriga de Castelladral fue una masía dedicada a la producción del vino y del aceite a finales del s. XVIII. Hoy es un hotel con encanto para vivir la naturaleza, la alimentación y las escapadas.
QUÉ VISITAR CERCA DE VIC
Osona
Cuando pienso en Osona, pienso en el embutido, en la niebla, en el Montseny y también en las llanuras de Vic. Todos ellos son elementos esenciales de la comarca, y probablemente presentes en una escapada a Osona.
A medio camino entre la Costa Brava y los Pirineos, encontraréis Vic, una ciudad famosa por el fuet y el salchichón, y preciosa con su casco antiguo lleno de edificios medievales. Paseando por Vic llegaréis seguro a la Plaza Mayor, conocida como Mercadal, que es el centro de la actividad comercial y donde se celebra mercado semanal cada sábado por la mañana.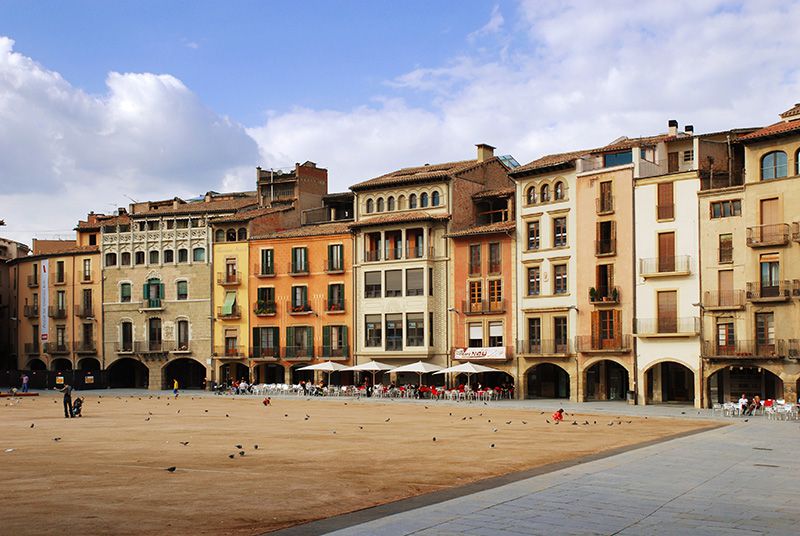 Por los alrededores de Vic encontraréis pueblos bonitos a visitar como Viladrau, dentro del Parque Natural del Montseny. Viladrau tiene más de cien fuentes que forman una curiosa melodía constante en todo el pueblo. ¿Sabías que fue en Viladrau donde se ajusticiaron más brujas? Por ello, cada año por la "Castanyada" (31 de octubre) se celebra la Persecución de las Brujas, un espectáculo teatralizado de música, danza, luz y fuego.
Un poco más allá, en Sant Julià de Vilatorta, descubriréis un auténtico museo modernista al aire libre: a principios del siglo XX, el pueblo era el destino preferido de muchas familias barcelonesas acomodadas. La ruta modernista de Sant Julià incluye 25 fincas. Pero si preferís hacer senderismo o cicloturismo, visitad Sant Julià para descubrir el parque de las Siete Fuentes, donde encontraréis varias rutas.

Tavertet y Rupit son dos pueblos más a descubrir en una escapada a Osona. Tavertet está situada en la cima de un peñasco y es un pueblo encantador lleno de casas de los siglos XVII y XVIII. Más adelante, en Rupit, veréis que el pasado medieval toma fuerza entre sus callejuelas adoquinadas, el puente de Can Badaire y la primitiva iglesia de San Juan de Fàbregues.
¿Dónde dormir?
Mas Albereda (Sant Julià de Vilatorta). Un pequeño hotel con encanto que combina el trato profesional con el entorno rural y familiar, la flexibilidad y la adaptación al cliente. El hotel se enmarca en una masía del s. XIV.
Hotel Hostal Estrella (Rupit). Un hotel rústico y acogedor, acompañado por un restaurante que ofrece cocina con productos de proximidad y un trato familiar.
QUÉ VISITAR CERCA DE SOLSONA
Solsonés
Si hablamos del corazón de Cataluña, tenemos que hablar del Solsonès porque es precisamente allí que se encuentra el centro geográfico de Cataluña. Acercaos al Santuario de Pinós, donde encontraréis una rosa de los vientos que conmemora este punto geográfico. Desde el Santuario salen varias rutas circulares a pie y en bicicleta para recorrer los paisajes de la zona.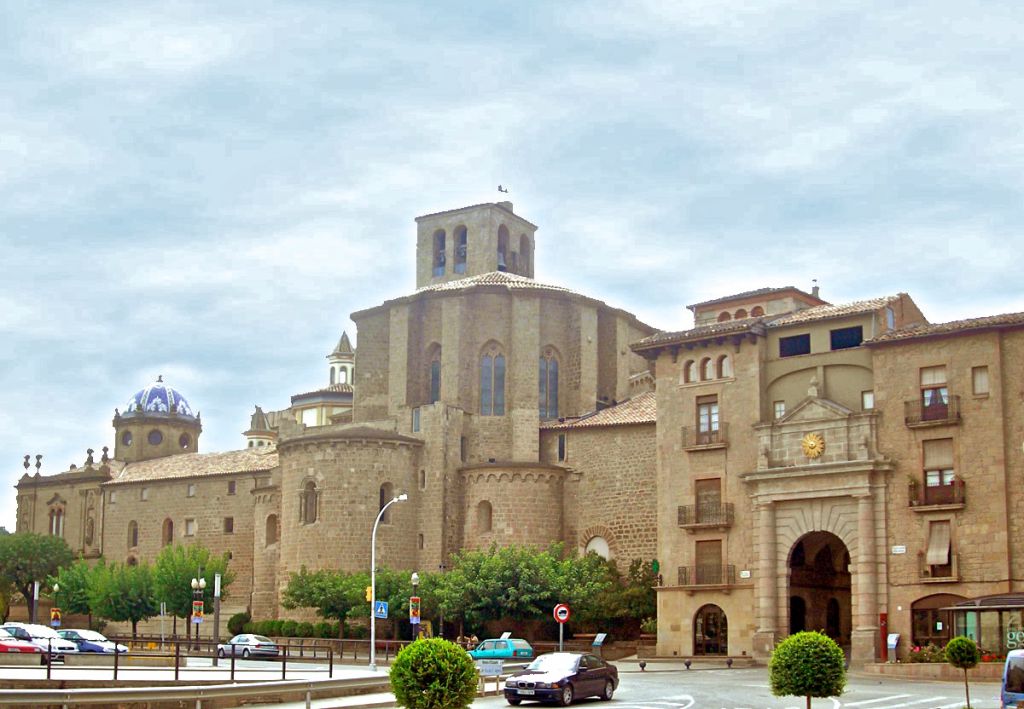 El Solsonés, también llamado "comarca de las mil masías" es, para mí, uno de los secretos mejor guardados de la Cataluña interior. Poca gente, paisajes preciosos y un cuidado especial por todo lo natural y tradicional. El Solsonés tiene mucho encanto y aún no hay aglomeraciones turísticas.
El casco antiguo de Solsona es realmente precioso, no os lo perdáis. Además, Solsona es el pueblo catalán donde se celebran más fiestas populares a lo largo del año; las posibilidades de coincidir con algún evento son bastante elevadas.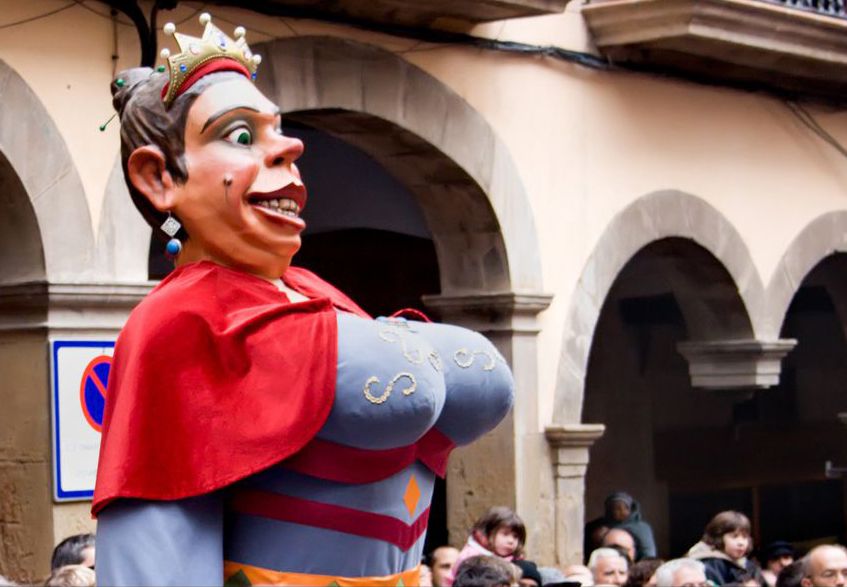 Saliendo de Solsona por la carretera que va hacia Sant Llorenç de Morunys, pasaréis por el Embalse de la Llosa del Cavall. Un lugar precioso con unas vistas espectaculares. Y justo encima de este embalse, encontraréis uno de los Santuarios más conocidos y espectaculares del Solsonés: el Santuario del Valle del Lord. Siguiendo la carretera, se llega a Sant Llorenç de Morunys, la segunda ciudad del Solsonès, y también preciosa.
Explorad el Salí de Cambrils, que es la única salina de montaña de Cataluña y recientemente ha sido restaurada completamente para albergar un nuevo espacio de ocio y terapéutico. Podréis bañaros en la piscina de agua salada (climatizada), que tiene las mismas propiedades que el agua del Mar Muerto.
Si os gusta el arte no os perdáis el conjunto monumental de Olius, muy cerca de Solsona. La iglesia de Sant Esteve de Olius es un ejemplar del románico lombardo del siglo XI. Visitad también el cementerio modernista y la cripta: impresionantes.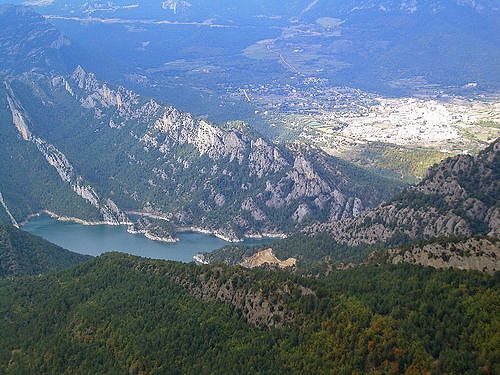 En invierno la estación de esquí de Port del Comte es también parte del planning de una escapada a Solsona. Para esquiar o para tocar nieve, es una estación muy familiar. Además, cuenta con un parque lúdico que funciona todo el año.
¿Dónde dormir?
La Freixera (Solsona). Pequeño gran hotel con encanto, moderno y confortable, en el pueblo medieval de Solsona. Algunas de sus habitaciones tienen vistas al jardín arqueológico del hotel.
La Vella Farga (Lladurs). A pocos kilómetros de Solsona, se ubica la Vella Farga, un antigua masía del siglo XI convertida en un hotel de lujo precioso, lleno de rincones mágicos y bonitos.
El Monegal (Sant Llorenç de Morunys). El Hotel Restaurante El Monegal ofrece productos ecológicos y de proximidad. Comeréis y dormiréis muy bien.
Creditos Fotos : Pla del Masroig (Pep Simo), Montserrat (Alisha Putri), Mura (Anselm Pallàs) Vic (Jens), Rupit (Jose Manuel Mota), Solsona (Jordi Domènech i Arnau), Geganta (Xavier), Presa de la Llosa del Cavall i St Llorenç de Moruny (Jordi Marsol).