Getaway to "Girona, Temps de Flors"
¿Estás pensando en hacer una escapada a Girona? Del 8 al 16 de mayo es el momento perfecto para visitar esta ciudad. Se celebra "Girona, Temps de Flors". Uno de los eventos culturales más importantes de la provincia y, posiblemente, uno de los más atractivos y originales del país. Durante nueve días, las calles y escaparates de la capital se llenan de color, de música y de luz. Instituciones, comercios y domicilios particulares se visten con flores para dar la bienvenida a la primavera y recibir a los miles de ciudadanos locales y foráneos que se acercan hasta allí.
Este año, serán 92 proyectos y 85 los puntos de exposición que se extiendan por cinco barrios distintos: Barri Vell, Carme, Mercadal, Eixample, Sant Daniel, Fontajau, Devesa, Sant Narcís y Santa Eugènia. Una oportunidad única para descubrir espacios tan emblemáticos como La Catedral, la Rambla de la Llibertat, los puentes del río Onyar o los Baños Árabes y hacer una escapada a Girona diferente.
A pesar de que esta edición será distinta a otras, sin duda será igual de especial y de segura. Y es que, para evitar contagios, los organizadores han limitado los aforos y han extremado las medidas de protección frente a la Covid-19. Un protocolo que te permitirá recorrer la ciudad con calma y disfrutar de las composiciones florales que participan en el "Concurso de Escaparates y Decoración Interior" que se celebra de forma paralela.
Si estás deseando visitar "Girona, Temps de Flors" tanto como nosotros, no te olvides de reservar hotel. En Petits Grans Hotels de Catalunya encontrarás espacios pensados para que tu escapada a Girona sea inolvidable. Te damos algunas ideas:

Hotel Boutique Casa Cacao
En el corazón del Barrio Antiguo de Girona y con vistas al río Onyar, se sitúa el Hotel Boutique Casa Cacao. El último proyecto de los hermanos Roca que te sorprenderá por su calidez, buen gusto y originalidad. Y es que, en un solo espacio, puedes encontrar desde un hotel acogedor donde relajarte y descansar hasta un obrador y una tienda donde degustar las creaciones dulces de Jordi Roca.
Tres propuestas diseñadas con un único propósito: que disfrutes de tu escapada a Girona con los cinco sentidos.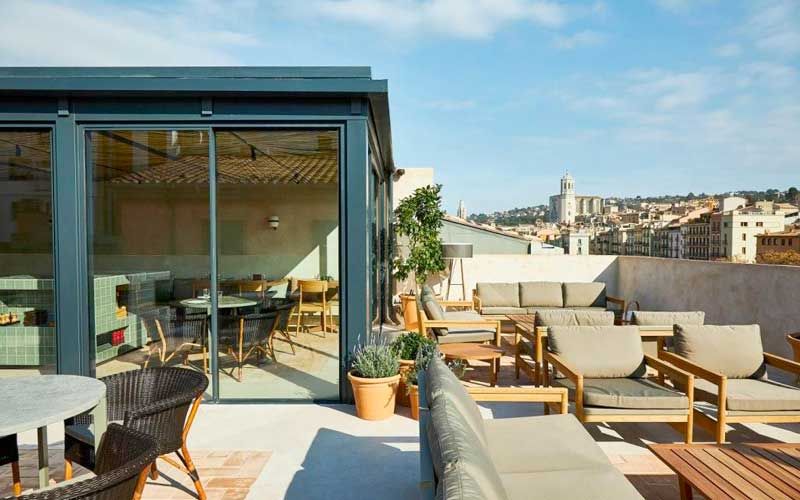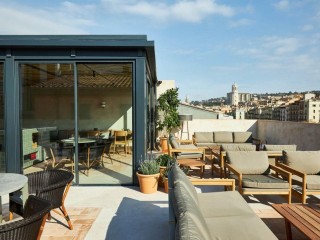 The Casa Cacao Boutique Hotel from El Celler de Can Roca, is in the heart of the city of Girona, in a fully refurbished historic building. It is a welcoming space with 15 warm, large and comfortable bedrooms, and a splendid terrace on which you can have breakfast and relax while contemplating the lovely views of the Plaça Catalunya, the houses overlooking the River Onyar and the Old Quarter. On the ground floor of the hotel you can enjoy the experience of the traditional Casa Cacao chocolate workshop.
Hotel Monument Can Garay
Si después de visitar "Girona, Temps de Flors", prefieres alejarte del bullicio de la ciudad y buscar tranquilidad, el Hotel Monument Can Garay es tu lugar. Un edificio modernista de 1906 y catalogado de interés cultural rodeado de 3.000 m2 de jardín y a menos de una hora de Girona.
Con 6 habitaciones, una suite y un pequeño restaurante con cocina de temporada, este espacio ha sido restaurado para que tu estancia sea tan especial como inolvidable. Y, si además de descansar quieres cuidarte, el hotel dispone de un pequeño gimnasio y de tratamientos Wellness para que mimes tu cuerpo y tu mente. Una escapada a Girona que recordarás siempre.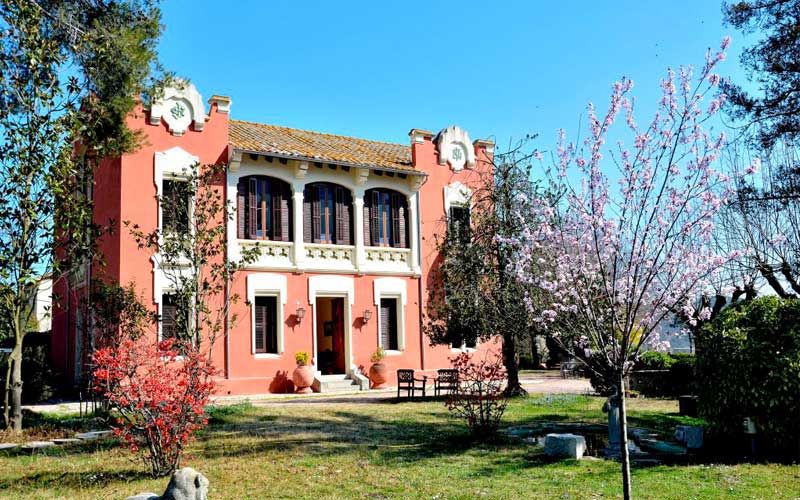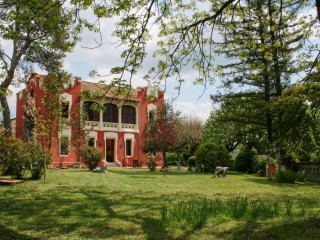 Hotel Can Garay is an Art Nouveau hotel built in 1906 and is listed as an architectural heritage site being declared as a "Hotel-Monument" by the Catalan government in 2007.

It is a family-run hotel with 6 double rooms and a family suite . All the rooms look out onto the large, centenary gardens and feature all modern-day comforts. The hotel is located just 100 meters from the Greenway (Vías Verdes) bike trail, which runs from Olot to Girona and has a secure bike parking space equipped with tools and cleaning facilities.

The hotel is situated in the village of Les Planes d'Hostoles on the edge of the Volcanic Park of La Garrotxa and the Park of Special Natural Interest, Collsacabra. Visiting this unknown part of La Garrotxa, you will discover the pleasure of walking through the magnificent oak and beech forests and stopping off to contemplate the Brugent river, its beautiful natural pools, spectacular waterfalls and the wonderful array of the colours of the forest...

Good food "garrotxina" for breakfast and dinner.