Weekend in Cadaqués: where to sleep and what to see
La primavera ya ha llegado con todo su esplendor. Qué mejor, pues, que el buen tiempo para escaparte unos días a la Costa Brava. Desde Petits Grans Hotels de Catalunya sabemos que quieres disfrutar de la playa, por eso te proponemos una estancia en uno de los pueblos más emblemáticos del Alt Empordà: Cadaqués (Girona).
Este pueblo conserva todo el encanto de su pasado marinero, con casas blancas y calles estrechas llenas de flores de colores. Su casco antiguo y barrio judío son dos de los lugares imprescindibles por los que hay que perderse, dejándose llevar por el carisma de esta antigua villa de pescadores. Además, desde la Iglesia de Santa María podrás obtener la mejor vista panorámica de la bahía.
Otro sitio esencial es el paseo marítimo. Tener el mar Mediterráneo de cara mientras las barquitas bailan al son del mar es una de las mejores maneras de empezar tu estancia en Cadaqués. Además, el pueblo es conocido por sus casas modernistas, como Casa Serinyana o Casa Blava, que hay que ver y fotografiar.
No podemos olvidar que el pueblo fue hogar del gran pintor Salvador Dalí. Alegorías a su vida y obra, como la estatua o la casa museo, son sitios que vale la pena visitar, aunque no seas un gran aficionado al arte. Si, además, te gusta el senderismo, no puedes perderte el parque natural del Cap de Creus.
Como creemos que es uno de los mejores lugares donde pasar un fin de semana de mayo y junio, en Petits Grans Hotels de Catalunya te recomendamos el hotel ideal donde disfrutar de la estancia:
Hotel Tramuntana (Cadaqués)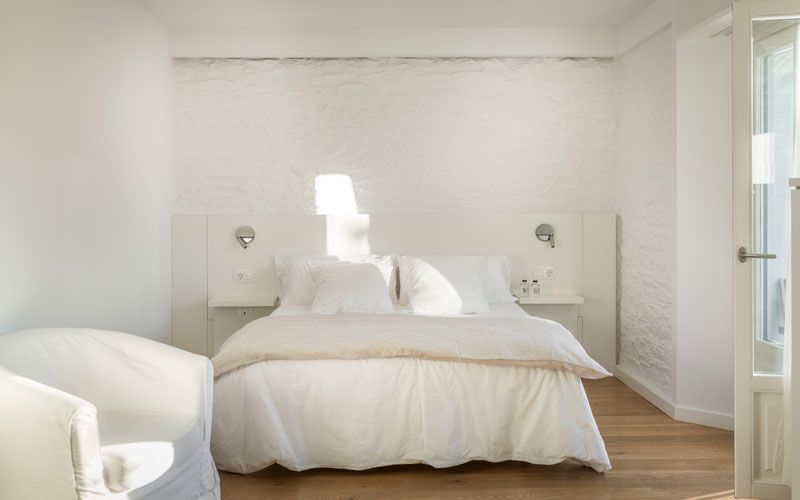 Este hotel, apto solo para personas adultas, se encuentra en medio del centro histórico de Cadaqués, a tan solo 200 metros del mar. El alojamiento, elegante y acogedor, ofrece habitaciones modernas y minimalistas con vistas al jardín. La decoración, con suelo de parquet y paredes blancas, se camufla perfectamente con el ambiente de todo el pueblo.
Si buscas descansar y relajarte con tu pareja o amigos, este es el hotel ideal para ti. Además, ofrecen un desayuno preparado a base de productos de proximidad y elaborado localmente. Conoce de primera mano la gastronomía y productos de la zona con el Hotel Tramuntana.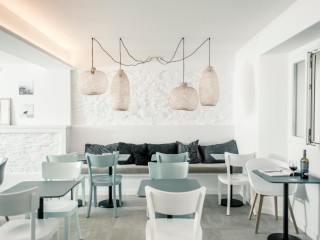 Tramuntana Hotel - Adults Only is located in the beautiful historic centre of Cadaqués, just 200 metres from the coast. This stylish hotel offers modern, minimalist rooms with free WiFi and garden views.
The Tramuntana Hotel has eleven rooms, very comfortable and with everything you need to rest and enjoy: fully equipped bathroom, air conditioning, wifi, safe and telephone. In all of them you will feel very comfortable. The rooms are modernly decorated with parquet floors and white walls.
Room service is available during the day. It also offers a breakfast prepared with love based on local products, made in Cadaqués and the surrounding area, so that you can get to know the gastronomy and products of the area first hand.
The hotel has a garden, terrace and shared lounge. To rest, have a drink before going out, read the last novel of the summer or simply relax, the hall of the Tramuntana Hotel is the perfect place for you to enjoy a good moment of peace and quiet. If you fancy a bit of fresh air, you can sit out on the terrace. To watch a film or a football match there is a TV room.
The hotel is 1.2 km from the Salvador Dalí House Museum in Portlligat. The beautiful natural park of Cap de Creus is a little further away. Figueres and the French border are about 50 minutes away by car.
The facilities are not designed to accommodate pets.
No lo pienses más y organiza el fin de semana ideal en este encantador lugar.