Four experiences to fully enjoy the All Saints Bridge
Ya se huelen los panellets, las castañas y los boniatos… ¡Y es que estamos a pocos días de uno de los momentos más celebrados del año! El día de Todos los Santos. ¿Ya tienes pensado cómo aprovechar el puente de los santos? ¡Te proponemos diferentes hoteles y algunas actividades para disfrutarlo al máximo!
Redescubrir la antigua Catalunya, Can Dispès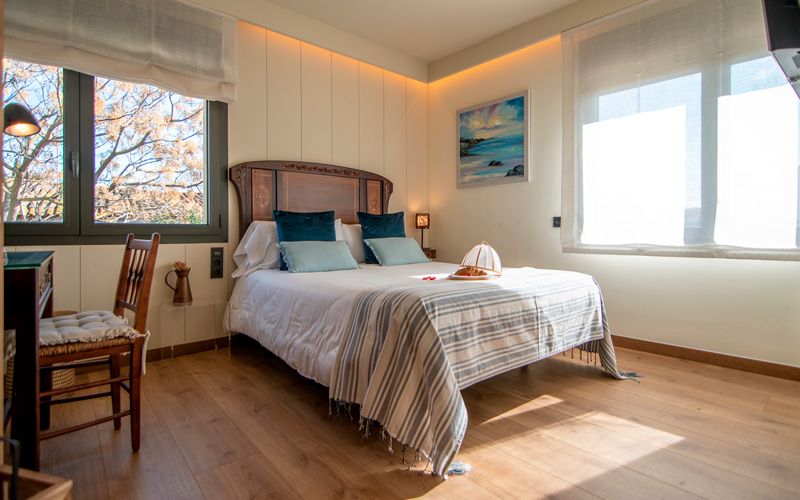 Si lo que te apetece es pasar tiempo con los tuyos, disfrutar de espacios verdes y redescubrir antigüedades, Can Dispès es ideal. Se trata de un pequeño hotel con encanto situado en el pueblo de Viladamat en el Alt Empordà. A tocar del municipio costero de L'Escala y de la villa medieval de Sant Martí d'Empúries. La Masía dispone de diferentes espacios ajardinados, piscina de uso exclusivo para los clientes y rincones de descanso y desconexión para sentir el Empordà en todo su esplendor. Pausa, tranquilidad y respiro son los conceptos clave de la casa, restaurada cuidadosamente.
También cuenta con un gimnasio, tratamientos, aparcamiento, servicio de bicicletas... Entre otras reliquias, puedes visitar las Ruinas de Empúries: una antigua colonia griega situada en Sant Martí d'Empúries; el Castillo de Torroella de Montgrí; o la Ciudad Ibérica de Ullastret. ¿Eres más de museos? También tienes la opción de acercarte al Museo Dalí de Figueres y al Museo del Corcho de Palafrugell.
Relax con los tratamientos más exquisitos, Masía La Palma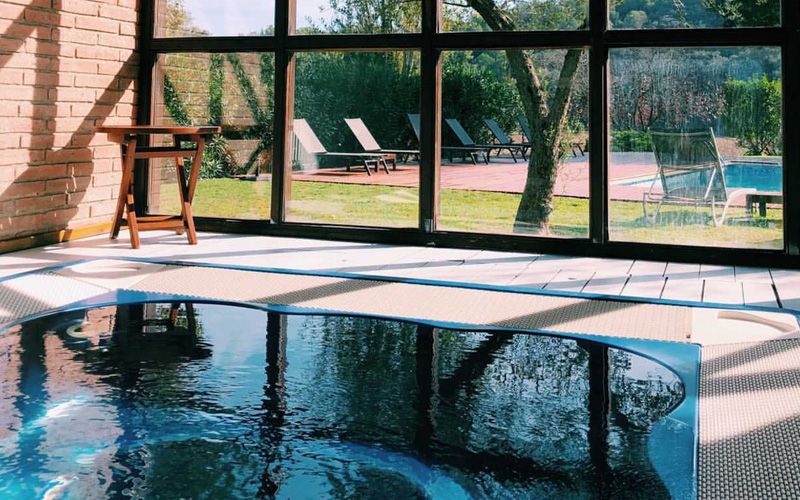 Vive una experiencia única en el Hotel Masía La Palma, una masía del 1830 rehabilitada para que disfrutes de natura, gastronomía, confort y te olvides de todo. El hotel se encuentra en uno de los lugares encantados de la Costa Brava: Espivanessa, en el Alt Empordà.
Durante el invierno te puedes relajar en el SPA con increíbles vistas hacia las montañas ampurdanesas, equipado con sauna finlandesa y una piscina de hidromasaje. Para terminar de redondear el circuito, puedes pedir uno de los masajes de la carta: el descontracturante, por ejemplo. Para poder hacer de tu estancia un fin de semana de retiro, los domingos se ofrecen clases de yoga y de meditación.
La masía cuenta con dos espacios gastronómicos: el Bar de la Confianza, con zona de bebidas, café y chimenea; y el restaurante Sa Poma. De cocina de autor con platos de raíces tradicionales catalanas y un toque mallorquín. Disfruta de la propuesta gastronómica al calor de la chimenea en pleno invierno.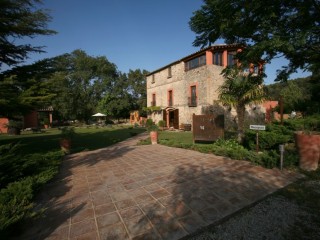 Live a unique experience at the Hotel Masia La Palma, a farmhouse from 1830 rehabilitated to enjoy nature, cuisine, comfort and forget everything. We want you to enjoy our outdoor pool in summer with a large solarium area and surrounded by nature. Relax in the SPA, with a Finnish sauna and a whirlpool during all the year. And, in winter, you feel at home in our favorite room, the Bar de la Confianza. A space with drinks and coffee area to isolate you from everything and relax in the fireplace lounge.
We present you Sa Poma, the hotel restaurant with traditional Catalan roots and a Mallorcan touch. Enjoy our gastronomic proposal on the terrace in summer and by the fire in winter.
¡A mover el esqueleto! Y a descubrir experiencias estrambóticas, Cal Sastre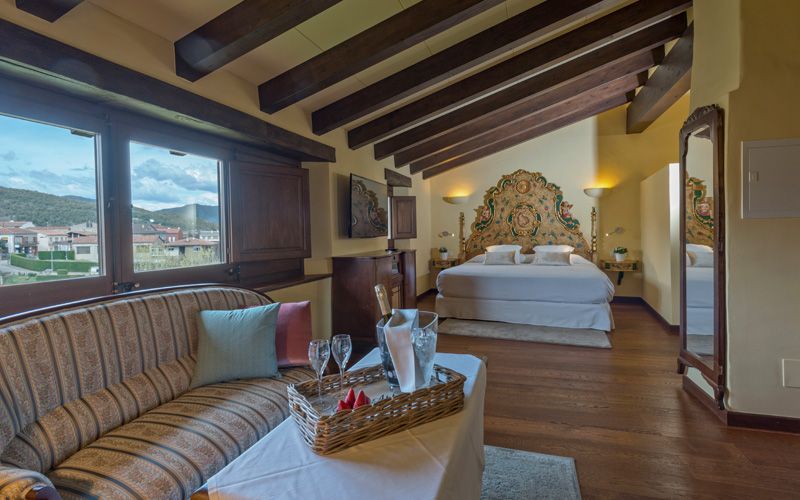 Situado delante del Castillo Medieval de Santa Pau, este establecimiento es ideal para descubrir el centro histórico de la ciudad y disfrutar de los bellos paisajes volcánicos de los alrededores. Pero además, el Hotel pone a vuestra disposición una serie de actividades para poder hacerlo de la manera más divertida posible. Podéis hacer excursiones de todo tipo, ya sea a pie, en bicicleta, o a caballo, pasear por los parques de la zona volcánica de la Garrotxa, hacer un vuelo en globo por la comarca, senderismo o remar un rato en el lago de Banyoles.
Las habitaciones de Cal Sastre, decoradas con estilo tradicional y muebles de época, son el resultado de una rehabilitación elaborada y técnica de dos casas del S.XV, donde se ha mantenido una perfecta armonía entre la arquitectura y el entorno excepcional del casco antiguo de Santa Pau.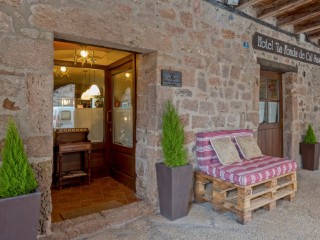 Located in front of the Medieval Castle of Santa Pau, this property is ideal for exploring the old town and enjoy beautiful landscapes.
The bedrooms at Cal Sastre, decorated in a traditional style with antique furniture. are the result of an elaborated and technical renovation of two cozy houses from the XV Century. It has been maintained a perfect harmony between the architecture and the exceptional environment of Sant Pau's old town. All the rooms are exterior with views of the "Santa Margarita" and "Puig de Mar" volcano, as well as views of the "Sant Julia" Mountains or of the Santa Paula medieval Castle from the 13th century.
In the region of the Garrotxa you can practice outdoor activities discovering volcanic scenery and the natural park.
Turismo a fuego lento, turismo rural, Molí de la Torre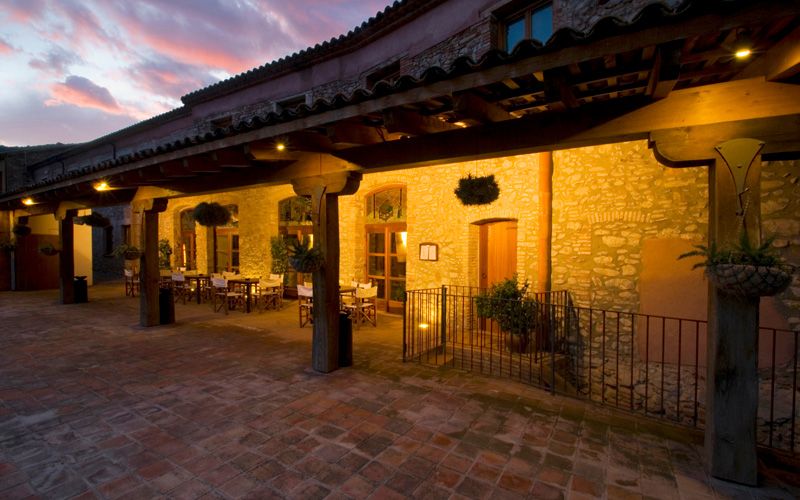 El acogedor Hotel Molí de la Torre os cautivará con su historia y sus posibilidades: un hotel rural, cerca de Barcelona, con uno sinfín de actividades para hacer turismo rural sostenible y que acepta mascotas.
Sobre un molino del siglo XII, a principios del siglo XIX se levantó una pequeña fábrica textil en el municipio de Bigues i Riells, junto al río Tenes, en la comarca del Vallès Oriental. Recientemente transformada en hotel rural de atmósfera familiar, podréis disfrutar de la tranquilidad de la zona así como revivir temas industriales del pasado. Dispone de una sala polivalente pensada para empresas, en la que caben hasta 40 personas.
Haciendo turismo a fuego lento, el hotel os propone tres opciones para visitar sus alrededores: en bicicleta por carretera o montaña, con segweys (un tipo de patinete eléctrico de montaña) o a pie. Podréis descubrir los bosques del Valle de Tenes o hacer rutas de senderismo pictóricas, como la Ruta Literaria Maria de Bell-Lloc.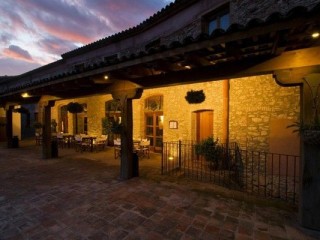 Hotel rural Molí de la Torre combines the comfort with the history of the 19th century to achieve a marvellous place to be relaxed and to enjoy the week end. In the 19th century was built a textile enterprise, near the river Tenes, in an ancient mill. Nowadays, the enterprise has been transformed into a familiar rural hotel where you can have good time and relive ancient times. We have available 12 double rooms and one suite and we also offer a big room for company or groups meetings with a capacity up to 40 persons.