The most charming rural hotels in Catalonia
Después de un año marcado por la pandemia y las restricciones de movilidad, desconectar del estrés y disfrutar de la naturaleza se convierten en una necesidad. Y, más, con entornos como los que ofrece Catalunya: parajes naturales de belleza incomparable, pueblos de montaña tan singulares como pintorescos y hoteles rurales encantadores donde reina la tranquilidad.
En Petits Grans Hotels de Catalunya queremos que tus escapadas sean todo un éxito, por eso hemos hecho una selección de los mejores espacios rurales donde disfrutar del tiempo libre. Toma nota.
L'Espinalt. Espacio Eco Rural (Sant Joan d'Oló, Barcelona)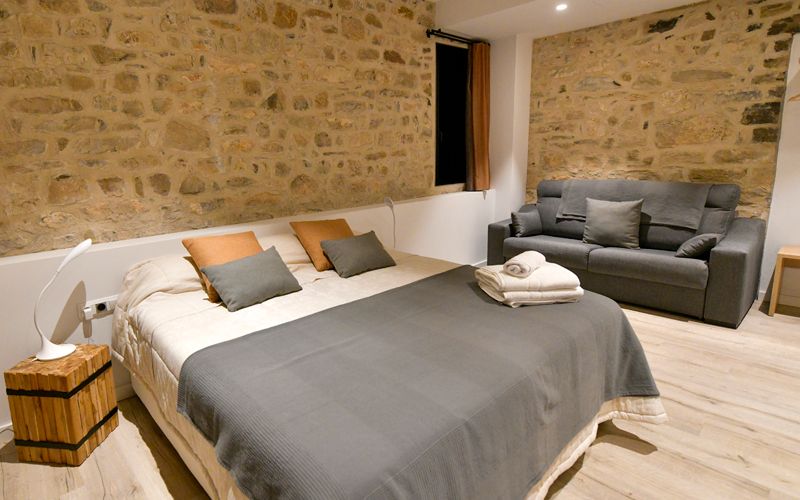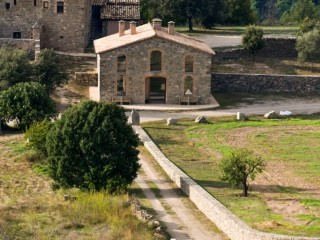 Welcome to L'Espinalt, a farmhouse that has its beginnings in the eleventh century.
The hotel has been restored under a sustainable architecture, on a building dated 1897 with environmentally friendly materials.
The hotel operates 100% with renewable energies.
L'Espinalt is located in Santa Maria d'Oló, in the heart of Catalonia, in a wooded and quiet environment, with privileged views, ideal to enjoy walks or bike rides, for couples or families.
The hotel has 4 rooms, 3 of which are standard double rooms and one spacious double room.
Each one of them symbolizes an essential part of the farmhouse. The rooms are fully equipped with all the details to enjoy a stay of disconnection.
In the living and dining room you will find another fireplace and a rest area ideal for your gatherings or to enjoy a good read.
¿Sueño o realidad? Es lo primero que te preguntas cuando visitas L'Espinalt. Una masía del siglo XI reconstruida de forma sostenible para que disfrutes de la máxima comodidad posible con el menor impacto medioambiental.
La belleza de su fachada y de sus habitaciones tan solo es comparable a la de su entorno: más de 70 hectáreas de bosques, campos y tierras de cultivo para que desconectes de las preocupaciones diarias y conectes con tu esencia. Recorrerlos es una excelente forma de activar el cuerpo y dejar la mente en blanco, pero también de acercarse a la naturaleza y aprender a respetarla.
Y es que este hotel rural de Sant Joan d'Oló, además de fomentar un estilo de vida pausado y saludable, promueve un turismo sostenible. Sus habitaciones y zonas comunes están iluminadas con energía renovable, sus estancias han sido restauradas con materiales respetuosos con el medio ambiente y su cocina de calidad, está elaborada con productos ecológicos y de km 0. ¡Hasta su piscina exterior es ecofriendly!
¿Te gustaría sumergirte en sus aguas este verano? Reserva noche en L'Espinalt y descubre otra forma de viajar.
Can Buch (Sant Aniol de Finestres, Girona)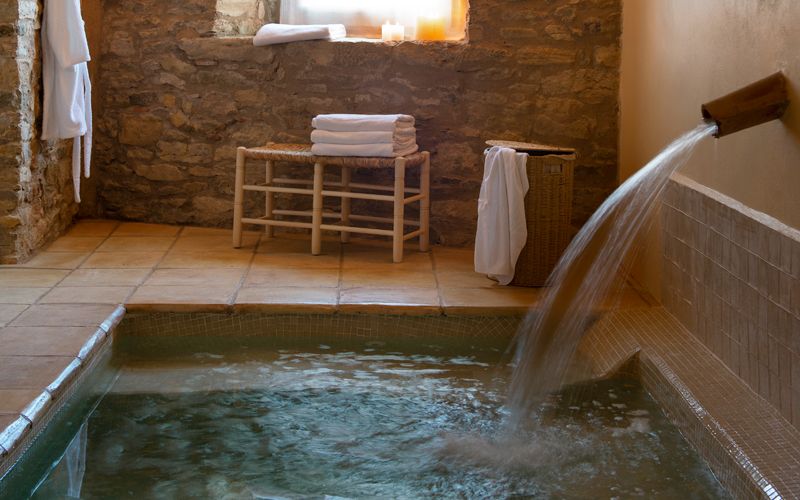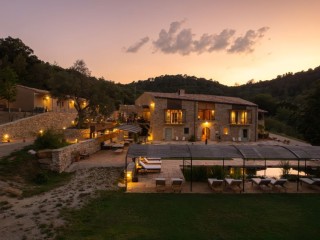 Can Buch is a rural farmhouse located in the Garrotxa, in the beautiful valley of Llémena, and restored in 2020 by artisans and natural materials.
The farmhouse is ecological and works 100% with renewable energies of the place.
We transport country life with all its traditions but with all the luxuries and comforts of the 21st century.
Plant-Based, ecological and local restaurant with an author's menu where most of the products are made by us in the farmhouse.
The hotel consists of 12 different rooms each with high quality finishes.
The hotel has an outdoor swimming pool, a chillout, a reception, a dining room and a private indoor hot water pool (Hammam).
Cerca de la ciudad de Girona, en la localidad de Sant Aniol de Finestres, se encuentra Can Buch. Un hotel rural que, además de paz y tranquilidad, destila amor por la naturaleza y respeto por el planeta.
Gerard Bofill entiende Can Buch como un proyecto de vida. Por eso, esta masía del siglo XVII es un reflejo de su filosofía y de su forma de entender el mundo. Su fachada y estancias han sido restauradas mediante técnicas sostenibles; sus habitaciones han sido decoradas con mimo y materiales nobles como la madera o el barro, y su Spa Hamman ha sido construido con piedras y cerámica extraídas del mismo caserío.
Pero estos espacios no son los únicos que han sido ideados bajo conceptos como la sostenibilidad y la autosuficiencia energética y alimentaria. La biopiscina, el Chill Out, el huerto y la pequeña granja también han sido diseñados en armonía con el entorno y respetando al máximo el medio ambiente.
Sin lugar a dudas, otra forma de hacer turismo y de relajarse. Disfrutar de los bosques y ríos que rodean la masía, de los baños en su piscina y Hamman, de los alimentos que se extraen del huerto ecológico y que se sirven al momento para no perder su sabor, su aroma y sus propiedades. Y, si te apetece salir de Can Buch, de parajes naturales tan espectaculares como Els Gorgs de les Planes d'Hostoles o el Volcán Croscat.
¿Con ganas de descubrirlos? Reserva noche en Can Buch y conecta con la naturaleza.
Hotel Rural Can Dispès (Viladamat, Girona)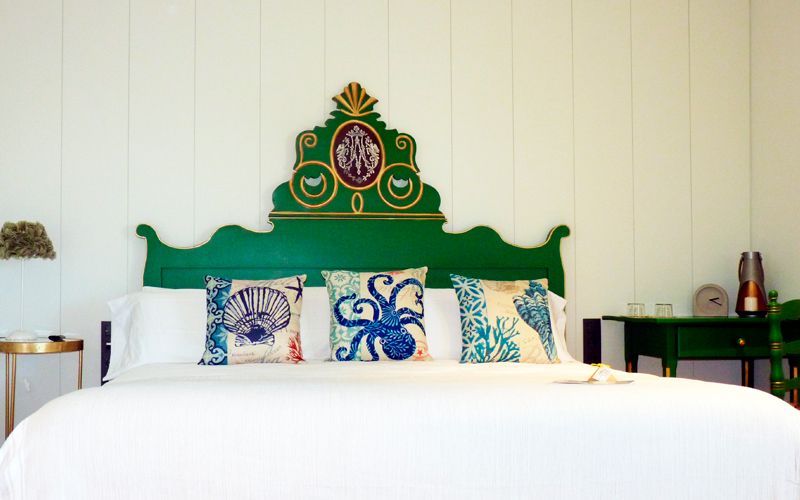 Todo espacio tiene su historia. La de Can Dispès se remonta al siglo XIX. Época en la que esta masía tradicional catalana fue construida en la pequeña localidad de Viladamat. Sin embargo, no fue hasta hace unos años que sus actuales propietarios, Txell y Gerard, decidieron restaurarla y convertirla en el hotel rural que es ahora. Un espacio cálido y acogedor cuyo nombre tomaron de Joaquim Dispès, antiguo inquilino de este caserío y astrónomo de vocación con tan buen corazón como pasión por las estrellas.
Hoy, siglos después de su edificación, Can Dispès sigue destilando la magia y tranquilidad de siempre. Sus habitaciones son una invitación al descanso y a la tranquilidad; sus estancias y espacios comunes, un reflejo de su amor por los detalles y por la sostenibilidad, y su entorno, un auténtico paraíso para los amantes de la naturaleza.
Rodeado de vegetación y dotado de gimnasio y piscina de agua salada, este hotel rural es la combinación perfecta entre pasado y presente, entre tradición e innovación. Pasear por su jardín y respirar su aire puro es, sin duda, un regalo para el alma y para los sentidos.
Muy cerca de allí, no puedes perderte: L'Escala y el pueblo medieval de Sant Martí d'Empúries. Y, si quieres ir un poco más allá, el Parque Natural de los Aiguamolls de l'Empordà y las Islas Medas. Dos parajes que merecen la pena recorrer y recordar.
Reserva noche en Can Dispès y vive unos días inolvidable.