Route by car through the medieval towns of Catalunya
La ruta que os propongo os permitirá descubrir los pueblos medievales con más encanto de Catalunya. Está pensada para hacer en 5 días de coche, pero podéis acortarla o alargarla según vuestras preferencias y necesidades. Está dividida en cinco etapas que van desde Montblanc (en Tarragona), hasta Tossa de Mar (en la Costa Brava), y atraviesa buena parte de la Catalunya central.
Aunque podéis hacer la ruta en el orden que más os convenga, mi recomendación es empecéis por Montblanc y viajéis hacia el mar, para terminar en la Costa Brava. En los alrededores de Montblanc hay mucho para ver y hacer e incluso podríais optar por hacer una noche extra allí antes de empezar el viaje en coche.
Aprox. 585km: Montblanc - Guimerà - Conesa - Solsona - Cardona - Mura - Talamanca - Vic - Santa Pau - Besalú - Peralada - Castelló d'Empúries - Pals - Palau-Sator - Monells - Peratallada - Begur - Tossa de Mar.
En cada etapa descubriréis algunos de los pueblos medievales más bonitos de Catalunya. Además de las visitas destacadas en cada etapa, tendréis la opción de realizar visitas adicionales (opcionales) que os permitirán profundizar y alargar una o varias etapas. Las encontraréis marcadas como "Además" al finalizar cada etapa.
Montblanc y Poblet
Empezamos la ruta en uno de los pueblos más míticos de la Catalunya Medieval: Montblanc. Cuenta con el recinto amurallado mejor conservado de Catalunya y un paseo por sus calles os hará viajar a la Edad Media. Torres señoriales, puertas inexpugnables, murallas afiladas y un puente románico hacen de Montblanc un pueblo épico de ambiente 100% medieval. La Oficina de Turismo realiza visitas guiadas y teatralizadas para descubrir la historia medieval de Montblanc. Si vuestro calendario os lo permite, no os perdáis la Semana Medieval de Montblanc (coincidiendo con Sant Jordi, a finales de abril), que fue el primer mercado medieval de Catalunya. Tiene lugar una escuela de caballería, exhibiciones de oficios medievales y una fabulosa representación de la leyenda de Sant Jordi, entre otras actividades. Para comer, podéis pedir mesa en Cal Colom, una de las fondas de toda la vida.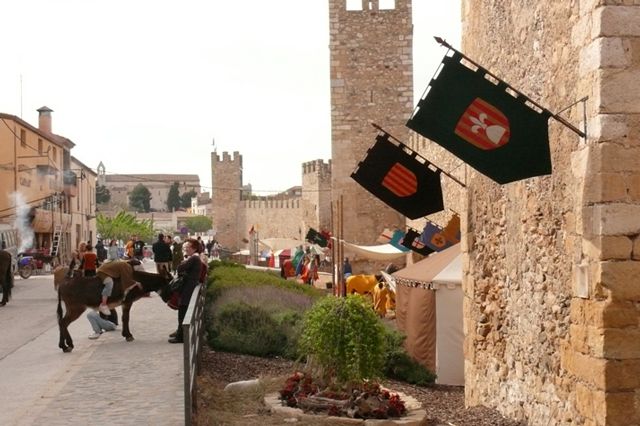 Completad la ruta con una visita al Monasterio de Poblet, el monasterio medieval más grande de Europa y uno de los iconos de la Orden Cistenciense. El acceso al Monasterio de Poblet se realiza solo con visitas guiadas; las hay prácticamente cada día del año. Ver horarios y precios.
Además: Si os ha gustado Poblet, os encantará saber que hay otros dos Monasterios Cistencienses muy cerca: Monasterio de les Santes Creus y Vallbona de les Monges. Pero si preferís descubrir un pueblo medieval bonito y singular, acercaos a Prades. Además de visitar un pueblo medieval precioso, estaréis en una de las zonas con mejor fama para la producción de aceite de oliva y vino - ¡Aprovechadlo!
Guimerà, Conesa, Solsona y Cardona (148km. 2h30min)
La segunda etapa comienza con la visita a dos pueblos medievales pequeños y cercanos a Montblanc, en los que podéis parar y dar un pequeño paseo: Conesa y Guimerà. Subid las calles en zig-zag de Guimerà hasta lo alto de la cima y allí encontraréis la fortaleza desde la que hay unas vistas preciosas. Por su parte, en Conesa la vida pasa sin prisas entre sus calles de entramado medieval de calles, torres y portaladas.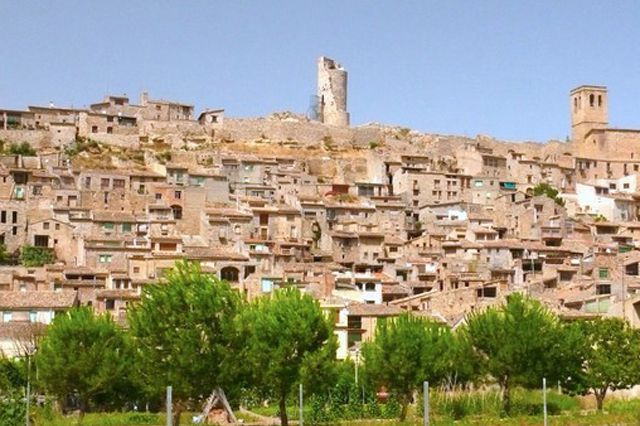 Tras cruzar las tierras de Lleida, llegamos a Solsona, una ciudad medieval amurallada preciosa en pleno Pre-Pirineo. Os encantará pasear por sus calles ordenadas, limpias y llenas de vida. En el mismo núcleo medieval de Solsona se encuentra el Hotel con encanto La Freixera, un buen lugar en el que descansar si queréis finalizar la etapa en Solsona. Sus habitaciones son modernas y muy cómodas y algunas de ellas cuentan con una preciosa galería antigua, con vistas sobre la calle que lleva a la catedral y al núcleo histórico de la ciudad.
Si decidís continuar la ruta, llegaréis a Cardona y a la "fortaleza inexpugnable": un precioso castillo del siglo IX, construido en lo alto de una colina y que es posiblemente la fortaleza medieval más importante de Cataluña. Podéis llegar al castillo a pie (15 min subida) o en coche hasta el parking gratuito de la fortaleza. Aunque podéis visitar el castillo por libre, es muy recomendable hacerlo con la visita guiada, que os permitirá acceder a varias salas cerradas al apúblico general. Podéis cenar y dormir en el Hotel Garriga de Castelladral, muy cerca de Cardona. Este precioso hotel fue hasta el siglo XVIII una masía dedicada a la producción de aceite y vino. Hoy día es un hotel cuco, reformado con muy buen gusto, que cuenta con un Spa y un restaurante delicioso ubicado en el antiguo pajar de la masía. El restaurante está abierto a todo el público y es necesario reservar.
Además: Si queréis alargar la ruta un día extra, os propongo desviaros un poco más hacia el norte y visitar tres pueblos medievales del Pirineo catalán: Gòsol, Castellar de n'Hug y Ripoll. Desde Solsona y Cardona llegaréis fácilmente a Castellar de n'Hug, pasando por Berga. Si elegís esta ruta alternativa, podéis alojaros en el Hotel Cal Majoral, en dirección a Berga. Una vez en Ripoll, no os perdáis su imponente Monasterio. Una vez en Ripoll podéis bajar hasta Vic o ir directamente hacia Besalú. Es un hotel rural con encanto y pocas habitaciones. Cuenta con un restaurante gastronómico de cocina de autor y una carta de vinos con más de 60 referencias nacionales.
Pasado Ripoll, en Sant Joan de les Abadesses, encontraréis otro precioso hotel en el que hacer noche. Se trata del hotel rural Les Planes del Grau, una masía totalmente rehabilitada del S. XIV y ubicada en un entorno precioso, que fue propiedad del Monasterio de Sant Joan de les Abadesses.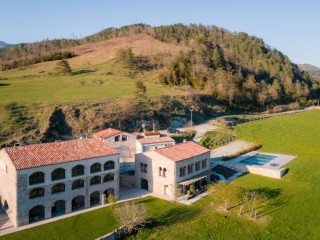 Hotel Les Planes del Grau is a completely refurbished 14th-century farmhouse, which used to belong to Sant Joan de les Abadesses Monastery.
It has 10 bedrooms, all of which have a small sitting area and a bathroom. The hotel also has a dining room, bar and living room, a large garden and an adjoining cattle breeding farm.
Located in the agricultural plain of the Ter, between San Juan and Abadesas Camprodon Plains remains a degree in a field of crops and livestock land, covered by pine forests and meadows of the Sierra Natural Guaitada and the slopes of the Sierra Cavalry. It offers an ideal space for standing, walking and horse riding or cycling in a unique place within the Natura 2000 network.
Mura - Talamanca, Vic y Santa Pau (172km. Aprox 3h30min)
Entre Cardona y Vic hay tres paradas medievales que conviene destacar: los pueblos de Mura y Talamanca y el Monasterio de Sant Benet. Éste último será el que primero encontréis desde la carretera. Sant Benet de Bages es uno de los conjuntos monásticos de la Edad Media mejor conservados de Cataluña. Si os adentráis en el Parque Natural de Sant Llorenç del Munt, encontraréis los dos pueblos medievales que se añaden a esta etapa: por un lado, Mura, construido sobre una colina; y, por otro, Talamanca, que cuenta con los restos de un castillo circular encantador. A ambos pueblos se acceden por la carretera que atraviesa el parque tras, eso sí, muchas curvas; pero precisamente por eso son menos frecuentados y menos masificados que otros pueblos. Tened en cuenta que pese a que Mura y Talamanca están uno junto al otro, necesitaréis casi una hora para cruzar el parque y que éste es a su vez un entorno espectacular en el podéis hacer alguna excursión si disponéis de tiempo suficiente.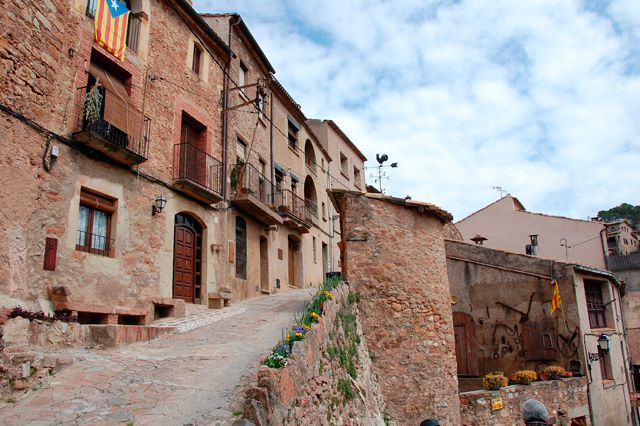 Por la tarde puede ser una buena idea pasear por el centro de Vic, una histórica localidad medieval catalana que merece la pena visitar. No os perdáis su inmesa plaza porticada y, si tenéis oportunidad, visitad la ciudad durante el Puente de la Constitución en diciembre, cuando tiene lugar el Mercado Medieval de Vic, con música y bailes tradicionales de la Edad Media, exhibiciones de oficios y talleres de disfraces y maquillaje. A sólo seis kilómetros de Vic está el hotel gastronómico Mas Albareda, de Nandu Jubany; no dudéis en hacer una parada para comer o cenar y disfrutar de extraordinarias sensaciones gastronómicas en plena naturaleza.
La última parada de esta etapa se encuentra ya en la comarca de La Garrotxa. Santa Pau es uno de los pueblos medievales más bonitos de Catalunya. Gran parte de su encanto reside en sus calles empedradas y el entorno idílico del Parque Natural de la Zona Volcánica de la Garrotxa. En el núcleo medieval de Santa Pau se encuentra el hotel Cal Sastre, un buen lugar donde hacer noche, comer bien y reponer fuerzas para la siguiente etapa.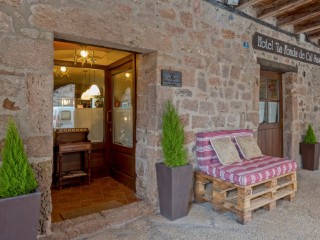 Located in front of the Medieval Castle of Santa Pau, this property is ideal for exploring the old town and enjoy beautiful landscapes.
The bedrooms at Cal Sastre, decorated in a traditional style with antique furniture. are the result of an elaborated and technical renovation of two cozy houses from the XV Century. It has been maintained a perfect harmony between the architecture and the exceptional environment of Sant Pau's old town. All the rooms are exterior with views of the "Santa Margarita" and "Puig de Mar" volcano, as well as views of the "Sant Julia" Mountains or of the Santa Paula medieval Castle from the 13th century.
In the region of the Garrotxa you can practice outdoor activities discovering volcanic scenery and the natural park.
Además: pese a que actualmente Osona y La Garrotxa están cómodamente conectados por los Túneles de Bracons (media hora entre Vic y Olot por la C-37), quienes tomen la ruta antigua disfrutarán de la belleza y encanto del pueblo de Rupit i Pruit, en la Sierra del Collsacabra. Situado en lo alto de un cerro, Rupit i Pruit es el súmmum del buen gusto con sus balcones adornados con flores y calles de pizarra. Allí encontraréis el Hotel Estrella, una fonda familiar transformada en un hotel rústico con encanto y con un exquisito restaurante abierto al público.
Besalú, Castelló d'Empúries y Peralada (78km. Aprox 1h17min)
La primera parada de esta nueva etapa es Besalú, una de las mecas medievales de Catalunya. Como si se tratara de un pueblo sacado de un cuento de caballeros o de un capítulo de Juego de Tronos, un paseo por las calles de Besalú y por su puente son prácticamente obligados en esta ruta medieval por Catalunya. Una recomendación: pese a que hay varios aparcamientos disponibles, lo mejor es dejar el coche en el aparcamiento que está junto al puente de piedra. ¡Las vistas del núcleo medieval de Besalú desde el puente son espectaculares!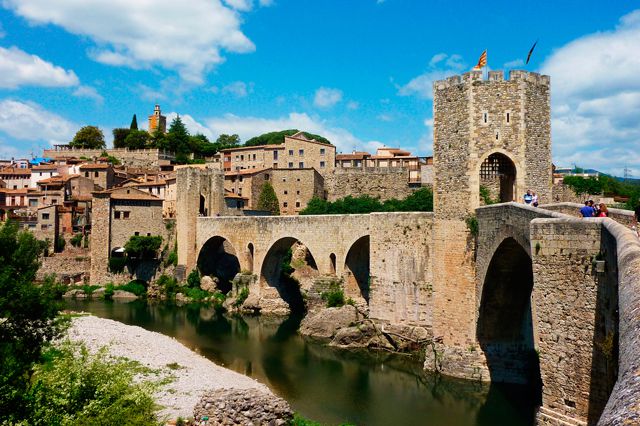 Siguiendo la carretera hacia la costa, una vez lleguéis a Figueres, y tomando la carretera de Roses, llegaréis a Castelló d'Empúries: vila medieval histórica de la Costa Brava. No os perdáis la Basílica de Santa Maria y el EcoMuseo Farinera. Si vuestra visita a Castelló coincide en la segunda semana de septiembre, estáis de suerte: es cuando tiene lugar el Festival Terra de Trobadors, en el que disfrutaréis de música de trovadores, combates de caballeros, un popular mercado medieval y actuaciones musicales y teatrales, entre otras actividades.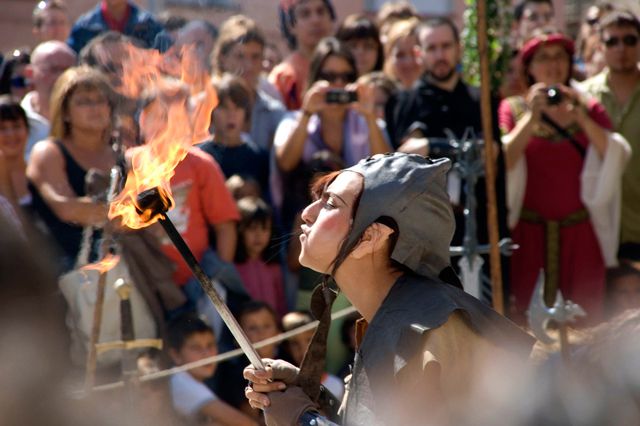 Junto a Castelló d'Empúries, a solo 10km, encontraréis el pueblo medieval de Peralada, con su impresionante castillo, que es la sede del Festival Castell de Peralada, uno de los más famosos de la Costa Brava. Peralada desprende encanto por todas sus callejuelas empedradas y arcos que forman el casco antiguo medieval. Precisamente en Peralada se encuentra el Hotel rural con encanto Can Carbó de les Olives, una masía reformada manteniendo sus características originales y rodeadas de viñedos. Un buen lugar dónde descansar y reponer fuerzas para el siguiente día.
Además: Antes de que Castelló d'Empúries fuera la capital medieval del Condado del Empordà, lo fue Sant Martí d'Empúries. Merece mucho la pena pasear por esta diminuta localidad medieval situada frente al mar, muy cerca de las Ruinas de Empúries. ¡Encanto asegurado!
Pals, Monells-Cruïlles, Peratallada y Tossa (150km. Aprox 2h30min)
En esta etapa seguimos de viaja por la Costa Brava, a través de sus pueblos medievales. En el corazón de la Costa Brava encontraréis varios pueblos medievales preciosos y bien cuidados, llenos de rincones con encanto. El primero y principal: Pals. Construido sobre una pequeña cima, tiene todos los ingredientes de pueblo medieval con encanto: murallas, castillo, situación elevada, casas muy juntas, calles empedradas, torres de vigilancia... ¡Quizás por eso sea uno de los destinos más habituales de la Costa Brava! En Pals, mi recomendación para comer bien es el hotel gastronómico Es Portal, que forma parte del colectivo gastronómico ampurdanés Cuina de l'Empordanet, encargado de promocionar la calidad gastronómica del territorio del Empordà.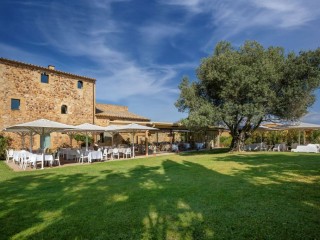 In a typical 16th century Ampurdan farmhouse on the outskirts of Pals, a mediaeval hamlet in the Baix Empordà region, this hotel has 9 bedrooms, a 10,000 m2 garden, a pool exclusively for hotel guests, a gastronomic restaurant and summer terrace for enjoying the fresh air. It offers Ampurdan cuisine with a subtle modern touch, using local produce with flavours and aromas from a mountain and marine landscape. Enjoy unforgettable experiences at Es Portal Restaurant & Hotel Boutique.
En los alrededores de Pals descubriréis también Palau-Sator, Monells y Peratallada, tres pueblos medievales muy pequeños preciosos que os enamorarán. Cada uno de ellos es singular y tiene su propio encanto, por lo que si podéis, haced parada por los tres. Se visitan muy rápidamente, en un paseo corto; una muy buena opción puede ser comer en esta zona y alargar vuestro paseo medieval por el Empordà.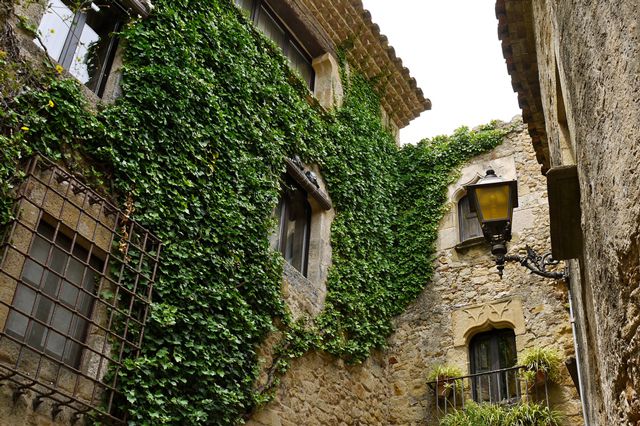 Si os enamoráis definitivamente de Peratallada, no dejáis pasar el pequeño hotel El Cau del Papibou, situado en una casa solariega del siglo XVIII en medio del pueblo. Perfecto para recorrer las calles iluminadas y solitarias al atardecer.
La última parada de esta ruta medieval de pueblos de Catalunya pasa por Tossa de Mar, al sur de la Costa Brava. No tiene nada que envidiar al resto de localidades medievales, ya que goza de un entramado medieval con murallas y castillo que la convierten en uno de los pueblos más bonitos de la Costa Brava. ¿Desde cuántas playas se tienen unas vistas tan espectaculares a un castillo?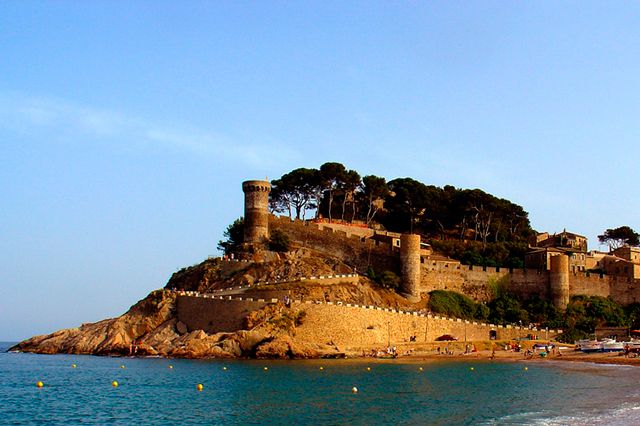 Aquí se acaba esta ruta medieval por Catalunya. Para la última noche, os propongo el Hotel Boutique Casa Granados, situado en el mismo núcleo medieval de Tossa. Un hotel de lujo, chic y elegante, que fue propiedad de la familia del músico catalán Enrique Granados, en el que descansaréis como reyes y comeréis divinamente.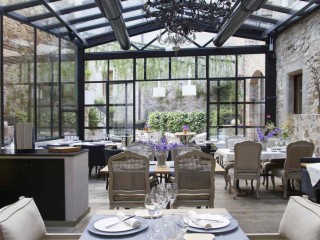 Casa Granados Boutique Hotel is perfectly located in a 200 years old mansion house in the village of Tossa de Mar. Surrounded by the Mediterranean Sea and forests of pines and oaks, the hotel will offer you a warm welcoming.
Casa Granados Boutique Hotel is a unique and exclusive place, consisting of seven rooms that surround the swimming pool, designed by Adam Martí, and romantic gardens around. Inside these gardens there is a spa where you will be able to relax in the sauna or the treatments area.
Además: Si os ha gustado la zona de Pals con sus pequeños pueblos con encanto, añadid Begur a la lista. Además de pasear por su casco antiguo, es más que recomendable subir a lo alto de la cima, donde descubriréis su castillo ¡con una de las mejores vistas de la Costa Brava! Begur es un pueblo con mucha animación y es una buena base para explorar las playas de la Costa Brava. Si elegís alargar vuestra estancia y hacer noche en Begur, echad un vistazo Cluc Hotel, una antigua casa indiana del siglo XIX reformada con mimo y detalle, o bien en el Hotel & Spa Classic Begur, que cuenta con piscina climatitada, jacuzzi, hammam, mármoles calientes y masajes. ¡Acertaréis seguro!
Cluc Hotel Begur is a charming little hotel located in the historic city center of Begur, at the heart of Empordà, one of the most wonderful place in Costa Brava. Our hotel is an old colonial house first dated at late 1800s and formerly known as Can Pallí. In 2012 we have restored the building respecting the materials and architecture of the original house and we have given it the name of CLUC hotel Begur. We have also enabled spaces like living rooms, terraces and a library. We have 12 cozy and unique rooms to enjoy a peaceful stay and dive into the magic of the Mediterranean. The rooms have been furnished taking care of each and every one of the little details that make a stay enjoyable. To create and intimate and cozy environment, the 12 rooms at CLUC Hotel Begur are exterior, equipped with complete bathroom, hairdryer, heating system with its own regulation, and a balcony or terrace. If the weather allows it, we prepare delicious breakfast outdoors made with local, ecologic and carefully selected products. We want our clients to feel comfortable in a casual and natural way. For this reason, we focus on the personal treatment, the relaxed environment and the quality of our services.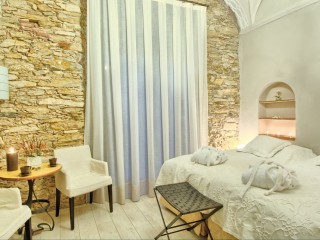 The Hotel-Spa Classic Begur, a small romantic hotel ideal for couples in the center of Begur, one of the most charming towns on the Costa Brava. Located in the pedestrian center of this beautiful town on the Costa Brava.
This Indian house converted into a hotel, It has 12 magnificent suites (some rooms with hydromassage bathtubs) with personality and their own stories, a gastronomic restaurant and a fabulous free spa for hotel clients with the option of private use.
The hotel has an elevator. All the rooms of the HOTEL-SPA CLASSIC BEGUR are elegant and have a pillow menu, flat screen TV, minibar, tea and coffee making facilities and private bathrooms with toiletries and hairdryer.
On the ground floor is the La Cocina Restaurant, a gastronomic restaurant where you can taste dishes made with local products.
In our exclusive Spa located in the basement of the building is the old winery, transformed into an area of ??water and relaxation. It has a swimming pool with hydromassage, water games, hot marbles, a hammam (Turkish bath), and contrast showers with different water temperatures.
We also have relaxing and therapeutic massages available to clients that we can perform in the same SPA or in the SAME room if the client wishes.
For hotel guests the Spa is open from 11am to 9pm and is included in the room price. For an additional fee, the spa is available for private use for couples, for an hour, from 9pm. Entry to minors under 14 years is prohibited.
Créditos de las Fotos, por orden de aparición, licencia Creative Commons, via flickr:
Montse Poch, CalafellValo, CalafellValo, Miquel Colomer Planagumà, Anselm Pallàs, Albert Torelló. Thierry Llansades, Sergi Martinez, Marie Therese Hebert, Tomasso Sannicchio.