Escape to the Cap Roig Festival and live a unique experience
Hay personas que aprovechan el verano para relajarse en la playa y desconectar. Otras que utilizan las vacaciones para perderse en medio de la naturaleza o para ir a conciertos. Y otras que no quieren renunciar a nada y unen su pasión por la playa, por la montaña y por la música en una sola escapada. Si ese es tu caso, no te puedes perder una de las grandes citas de la temporada, el Festival de Cap Roig. Un evento que, desde el 23 de julio hasta el 21 de agosto, reunirá a referentes de la música nacional e internacional en un espacio idílico: Calella de Palafrugell. Un pueblo de pescadores que te sorprenderá por sus calas de agua cristalina, por sus rutas, por su gastronomía.
Ara Malikian, Raphael, David Bisbal, Manel, Silvia Pérez Cruz o Els Amics de les Arts son algunos de los artistas que desfilarán por el Festival de Cap Roig durante los más de 20 días que dura este evento. Un festival que, como en anteriores ediciones, se celebrará en el Jardín Botánico de Cap Roig y que extremará al máximo las medidas de seguridad anticovid para garantizar la protección de músicos y asistentes.
¿Te gustaría asistir al Festival de Cap Roig y descubrir uno de los pueblos con más encanto de la Costa Brava? Te presentamos cuatro actividades que no pueden faltar en tu visita.
Recorre su casco antiguo
Recorrer las calles estrechas y encaladas de Calella es conocer su historia. Una historia que se remonta al siglo XVIII, cuando los pescadores de Palafrugell se instalaron en la costa para evitar que los piratas saquearan la zona. Después se asentaría la industria corchera y, con ella, una de las épocas de máximo esplendor de la localidad. Atrás quedan esos días, pero no la belleza y encanto de un pueblo que conserva la magia de antaño: sus casas blancas, sus "voltes" o arcos abovedados, su paseo marítimo y sus calles empedradas que invitan a pasear.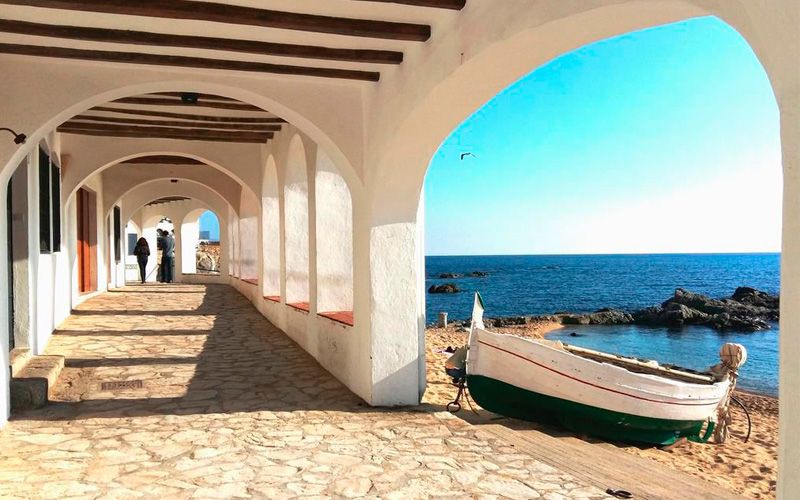 Báñate en sus playas y calas
Calella de Palafrugell tiene múltiples tesoros y sus playas y calas son, sin duda, uno de los más importantes. De arena granulada y aguas cristalinas, son el mejor destino para disfrutar del sol, de la tranquilidad y de deportes acuáticos como el paddle surf, el windsurf, el kayak o el snorkel. Y, aunque todas son increíbles, la de Port Bo, Port Pelegrí y la del Golfet son algunas de las más conocidas.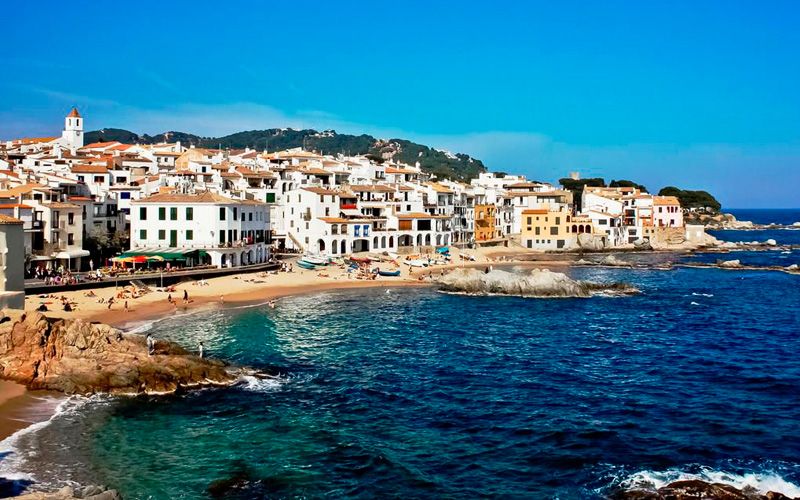 Descubre su gastronomía
La gastronomía de Calella es tan rica y variada como sus calles y playas. Los erizos de mar, el "rossejat" o fideuà marinera, el "suquet" o el arroz ampurdanés son algunos de los platos típicos que tienes que probar si asistes al Festival de Cap Roig.
Duerme en Casa Calella
En el corazón de Calella y a pocos metros de sus espectaculares playas, encontramos este pequeño hotel. Una casa del siglo XIX que, como el pueblo que la cobija, emana paz y tranquilidad.
Con un jardín de 172 m² y cuatro habitaciones totalmente restauradas para garantizar la comodidad de sus huéspedes, Casa Calella combina exclusividad y confort. Sin lugar a dudas, el mejor espacio para descansar después de una noche en el Festival de Cap Roig.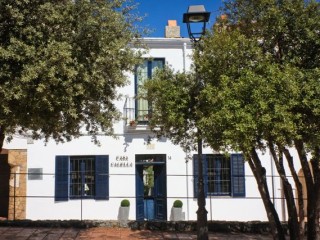 Casa Calella is an accommodation located in the old centre of Calella de Palafrugell, Baix Emporda's most beautiful costal town. It is next to the church, a few meters away from the sea.
The 19th century house is restored fully, keeping its original atmosphere, with all the modern comforts. It also has a cheerful 170m2 garden where you can relax, read, or have a drink. On the terrace under the lemon tree we serve our breakfast.
The accommodation has 5 bedrooms. This elegant rooms are made to enjoy the maximum comfort, space and quietness. They are elegantly furnished and perfectly equipped
Casa Calella is an exclusive place to enjoy a pleasant stay in a unique area.