Come to the Fira Orígens, the great event for local products in Olot
¿Te gusta pasear por los mercados y descubrir los olores de los productos frescos? Pues no te puedes perder uno de los acontecimientos gastronómicos más importantes de Catalunya, la Fira Orígens de Olot, donde podrás observar, probar y comprar los mejores productos de nuestra tierra.
En la Feria Orígenes encontrarás la mejor apuesta por los productos ecológicos y de calidad. No solo podrás degustarlos y comprarlos directamente a los productores, también participar en alguna de las sesiones de cocina que ofrecen reconocidos cocineros o asistir a conferencias y talleres.
Este año la feria se celebrará el 19 y 20 de noviembre en el recinto Ferial de Olot. Si estás pensando en asistir, Petits Grans Hotels de Catalunya te proponemos pasar el fin de semana en uno de nuestros hoteles con encanto. Toma nota, y aprovecha esta ocasión para disfrutar de una escapada de otoño.
Hotel Les Planes del Grau, Sant Joan de les Abadesses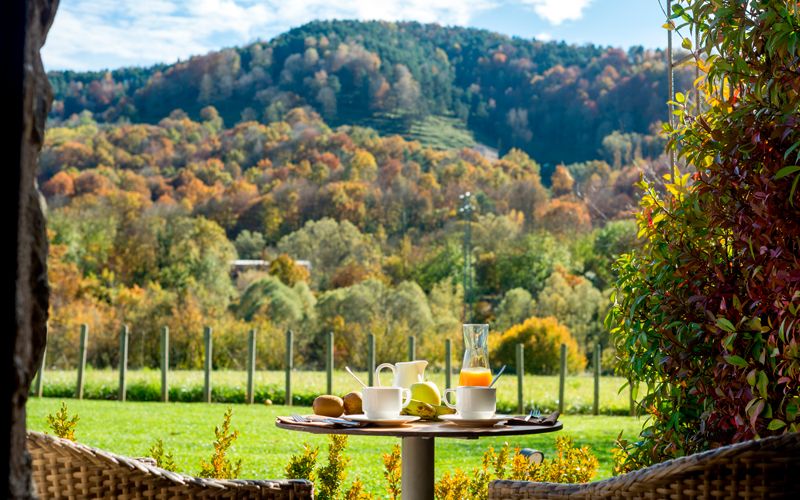 Vive una estancia única a solo 30 minutos de Olot en el hotel Les Planes del Grau, situado en una antigua masía del siglo XIV de Sant Joan de les Abadesses, totalmente restaurada y con todas las comodidades que necesitas. Aquí encontrarás habitaciones acogedoras, cálidas y diseñadas para el máximo confort, perfectas para descansar unos días y olvidarte de la rutina. Todo esto en un entorno natural idílico, ya que el hotel está rodeado de naturaleza. También hay una sala con chimenea a disposición de los clientes.
Les Planes del Grau también es muy recomendable para las familias más activas que quieren disfrutar de actividades al aire libre, excursiones, paseos a caballo... En el hotel os aconsejarán sobre todo lo que podéis hacer en la zona.
Vuestra experiencia gastronómica no se acaba en la Fira Orígens. Las Planes del Grau es también una explotación vacuna donde se practica la ganadería de toda la vida. En el hotel hay un restaurante con una propuesta basada en los productos locales de temporada, donde podréis degustar la ternera ecológica y el cordero del Ripollès.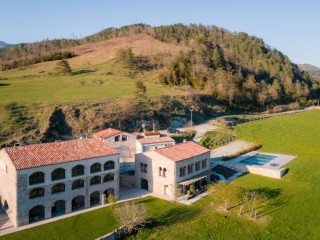 Hotel Les Planes del Grau is a completely refurbished 14th-century farmhouse, which used to belong to Sant Joan de les Abadesses Monastery.
It has 10 bedrooms, all of which have a small sitting area and a bathroom. The hotel also has a dining room, bar and living room, a large garden and an adjoining cattle breeding farm.
Located in the agricultural plain of the Ter, between San Juan and Abadesas Camprodon Plains remains a degree in a field of crops and livestock land, covered by pine forests and meadows of the Sierra Natural Guaitada and the slopes of the Sierra Cavalry. It offers an ideal space for standing, walking and horse riding or cycling in a unique place within the Natura 2000 network.
Hotel-Monument Can Garay, Les Planes d'Hostoles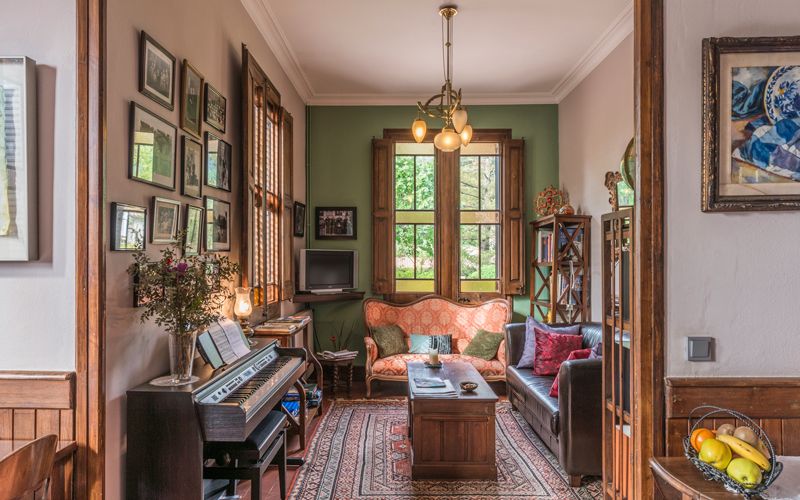 Si buscas una estancia diferente, te invitamos a alojarte en una joya arquitectónica modernista: Can Garay. El hotel está ubicado en un edificio que forma parte del patrimonio arquitectónico de Catalunya, fechado en 1906, y que es único en la zona de la Garrotxa. Está situado en Les Planes d'Hostoles, a menos de 30 minutos en coche de Olot.
Este hotel es ideal para una estancia romántica en pareja o unos días en familia, en habitaciones amplias con vistas a un gran jardín. Un trato excelente, mucha paz y unos servicios pensados para el confort total forman parte de la experiencia Can Garay. El hotel dispone de espacio fitness y servicio de masajes, para los que se quieren cuidar, y también alquiler de bicicletas. Puedes tener la estancia que desees: para descansar o disfrutar del entorno con actividades al aire libre.
En el Hotel-Monument Can Garay también os espera una cocina saludable basada en los productos de temporada de la zona. Podéis desayunar sin prisa en el magnífico jardín con vistas, y disfrutar de comidas y cenas a la fresca acompañados de un buen vino. La propuesta del restaurante es de gastronomía catalana de toda la vida, que gustará tanto a los pequeños como los adultos.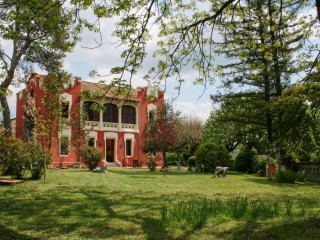 Hotel Can Garay is an Art Nouveau hotel built in 1906 and is listed as an architectural heritage site being declared as a "Hotel-Monument" by the Catalan government in 2007.

It is a family-run hotel with 6 double rooms and a family suite . All the rooms look out onto the large, centenary gardens and feature all modern-day comforts. The hotel is located just 100 meters from the Greenway (Vías Verdes) bike trail, which runs from Olot to Girona and has a secure bike parking space equipped with tools and cleaning facilities.

The hotel is situated in the village of Les Planes d'Hostoles on the edge of the Volcanic Park of La Garrotxa and the Park of Special Natural Interest, Collsacabra. Visiting this unknown part of La Garrotxa, you will discover the pleasure of walking through the magnificent oak and beech forests and stopping off to contemplate the Brugent river, its beautiful natural pools, spectacular waterfalls and the wonderful array of the colours of the forest...

Good food "garrotxina" for breakfast and dinner.
Hotel Casa Marcial, Besalú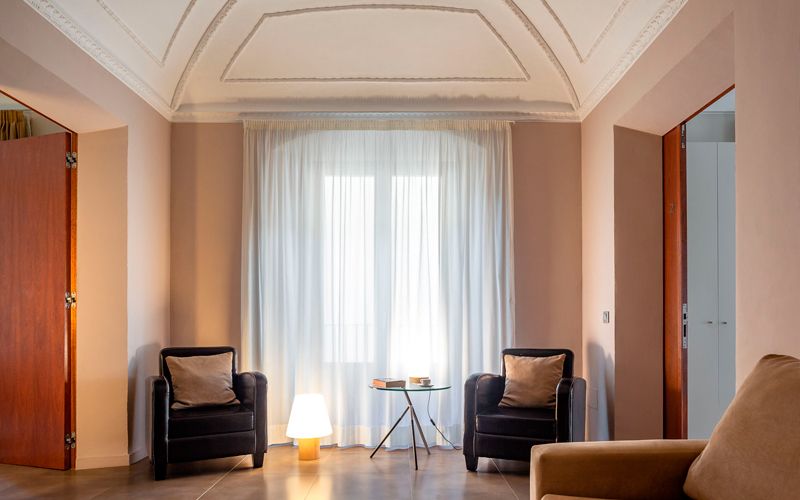 Para estancias tranquilas en pareja, el hotel Casa Marcial de Besalú es la opción más recomendable. Este hotel adults only es ideal para una escapada romántica, con habitaciones confortables donde os sentiréis como casa. Situado en medio de Besalú, el hotel tiene una ubicación privilegiada desde donde podrás descubrir toda la historia del pueblo y recorrer sus calles empedradas.
Podéis empezar el día de la mejor manera en el Honesty Bar, donde se ofrecen desayunos completos con productos de calidad. El hotel también tiene un sala con vistas, pensada para relajarse, y un jardín donde se encuentran algunas de los restos históricos de Besalú. Para disfrutar todavía más de la estancia, al jardín hay una piscina exterior ideal para momentos de desconexión, perfectamente integrada con los paisajes del pueblo.
Desde Casa Marcial puedes llegar a Olot en solo 20 minutos en coche. El hotel está en el corazón de la baja Garrotxa, donde también podrás visitar la Zona Volcánica de Olot, hacer turismo de montaña y conocer de cerca un entorno natural único. Para los más activos, el hotel está también a pocos minutos de algunos de los mejores campos de golf de Catalunya.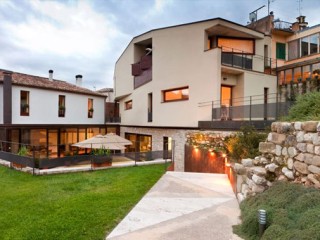 Casa Marcial is a recently restored hotel located in a quiet and privileged location in the historic center of Besalú. It has 12 rooms distributed in two buildings.
The main one is cataloged and it is from the end of the s. XIX and early XX. It is of neoclassical style and stands out for its facade and the 'alcovats' of its interior. The second building, of new plant, has been built on the remains of an old medieval noble house from the first half of the s. XVII.
Enjoy our pool, with an integrated design to the environment of the medieval remains of the garden, it is illuminable at night and has a shrinking platform that becomes a place of relaxation and disconnection
Exclusive hotel for adult public. The minimum age to stay is 14 years.
Located in the lower Garrotxa, on horseback between the counties of Pla de l'Estany and the Alt Empordà, Besalú enjoys a privileged geographical location such as the ski slopes of the Catalan Pyrenees (Vallter, La Molina) and the best beaches in the Costa Brava (Roses, Cadaqués ... also from the volcanic area of ??Olot as well as a few minutes from prestigious golf courses (Torremirona, Perelada ...), Figueres and the Dalí Museum ...