The Best Hotels With Spa in Catalonia
¡Al mal tiempo, buena agua! Para superar una semana de estrés en el trabajo, para alejarte del frío en invierno, para sumergir las ideas y ponerlas en remojo un par de días... Por todo esto y más, los hoteles con spa son nuestro mejor aliado.
He seleccionado un listado de los mejores hoteles con spa en Cataluña. Todos ellos tienen en común que son pequeños hoteles, tranquilos, cómodos y con mucho encanto, y disponen de zonas de spa y circuitos de agua en sus instalaciones.
El listado a continuación está ordenado de norte a sur. ¡Haz tu elección y reserva un fin de semana de relax en Cataluña!
Hotel Els Caçadors
Ribes de Freser, Ripollès, Girona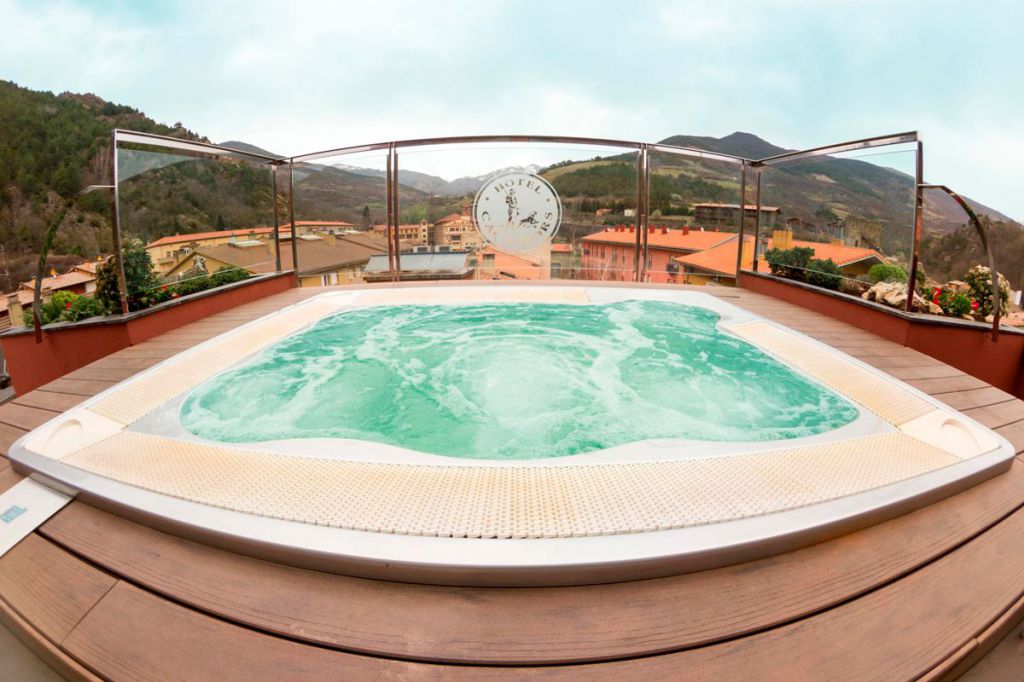 El Hotel Els Caçadors de Ribes de Freser dispone de una zona relax preciosa con chimenea, jacuzzi exterior climatizado y solarium. Se encuentra en la última planta del hotel y desde allí tendrás unas fantásticas vistas a las montañas del Torreneules en el Pirineo catalán. Además, sus habitaciones superiores incluyen hidromasaje.
Si buscas una escapada natural y encantadora, este es su hotel. Ecológico, de montaña, situado a los pies del Pirineo catalán, tradicional y vanguardista, a sólo una hora y media de Barcelona. No te pierdas la ambientación en la Sala de la Luna ni su conocidísimo restaurante de comida tradicional catalana.
Hotel Masia La Palma
Espinavessa, Alt Empordà, Girona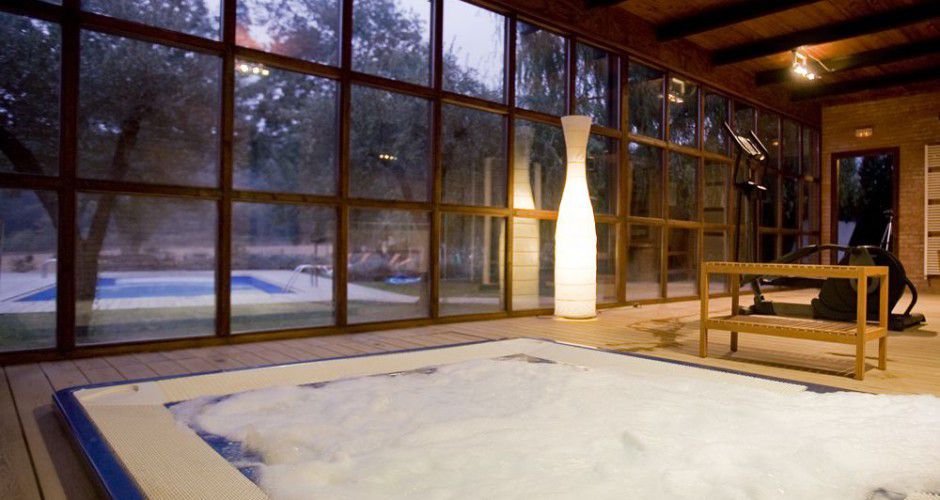 ¡No hace falta ir hasta Finlandia para disfrutar de una sauna finlandesa! En el Hotel Masia La Palma disfrutarás de una auténtica sauna finlandesa y piscina de hidromasaje. El hotel está situado en los bonitos paisajes entre el Alt Empordà, la Garrotxa y el Pla de l'Estany, junto a Figueres, Besalú y Banyoles. Un lugar aislado y rodeado de naturaleza que te ayudarán a desconectar.
En el spa del hotel puedes reservar masajes. Y a destacar que el uso de la sauna y hidromasaje es privado y exclusivo, por lo que puedes reservar una hora concreta para estar con tu pareja o familia.
Hotel-Spa Classic Begur
Begur, Baix Empordà, Girona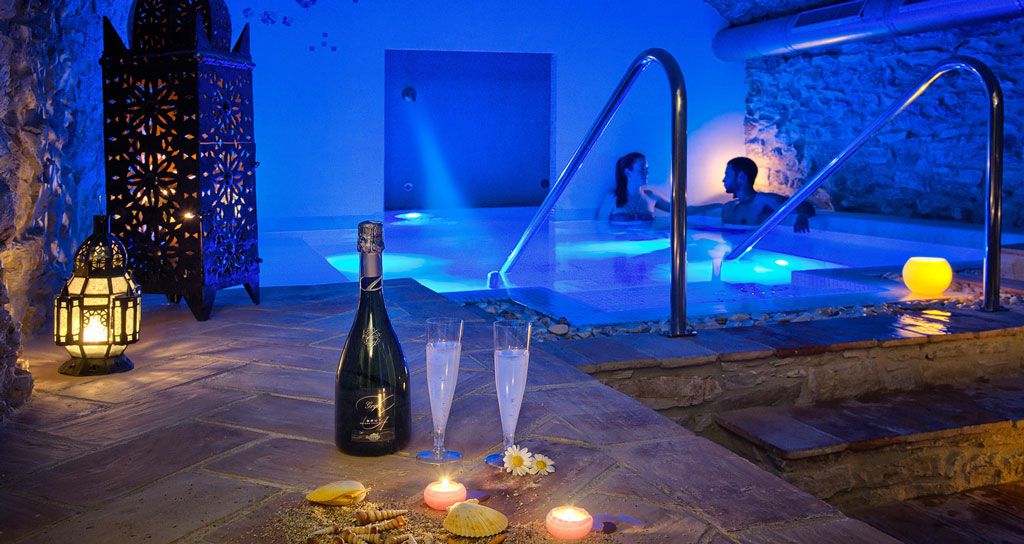 En el Hotel-Spa Classic Begur el spa está situado en un lugar mágico y encantador: la antigua bodega del edificio, hoy transformada en una zona de aguas y relax preciosa. El spa incluye una piscina con jacuzzi, juegos de agua, mármoles calientes, hammam y duchas de contrastes con diferentes temperaturas de agua. Y ofrecen además masajes relajantes y terapéuticos. El precio de la habitación ya incluye el acceso al spa, pero también lo podrás disfrutar de forma exclusiva durante una hora pagando un pequeño suplemento.
El Far Hotel Restaurant
Llafranc, Baix Empordà, Girona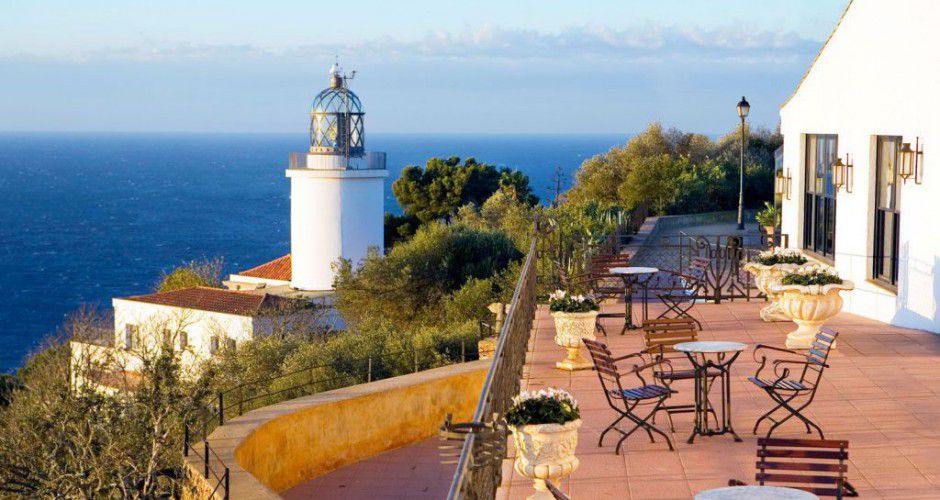 El Far es uno de los hoteles con las mejores vistas al mar de toda Cataluña. Y ahora, además, también ofrece un spa a sus huéspedes. En colaboración con el hotel Mas de Torrent, a sólo veinte minutos en coche, los huéspedes del hotel El Far pueden pasar una jornada en uno de los mejores spas de la Costa Brava.
Entre sus instalaciones encontrarás sauna, hammam, piscina climatizada, zona de aguas, gimnasio, terraza solarium y sala de relajación, además de tratamientos de belleza de Natura Bissé diseñados para proporcionar un bienestar absoluto.
Hotel-Boutique Mas Falgarona
Avinyonet de Puigventós, Alt Empordà, Girona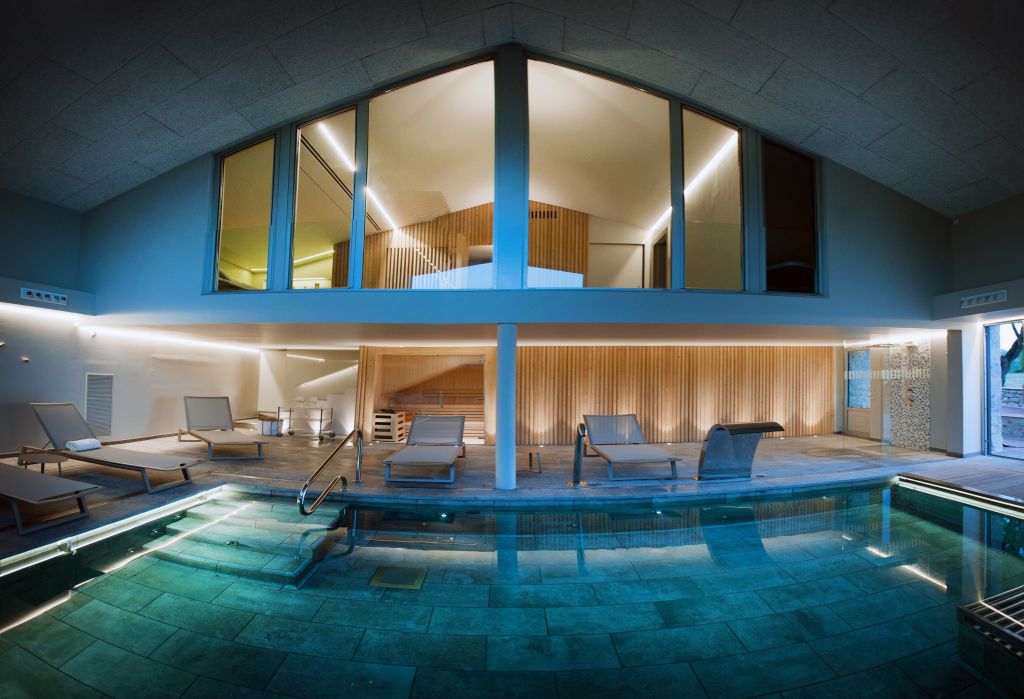 El hotel Mas Falgarona cuenta con un SPA completamente nuevo con piscina de hidrojets, sauna finlandesa, sala de masajes y zona de relajación. Este espacio se ha diseñado siguiendo la misma línea que el hotel, respetando la esencia original de esta masía del siglo XV.
Un hotel donde disfrutar de total tranquilidad y donde podréis probar una exquisita cocina mediterránea, elaborada con productos de proximidad.
Hotel La Garriga de Castelladral
Castelladral, Bages, Barcelona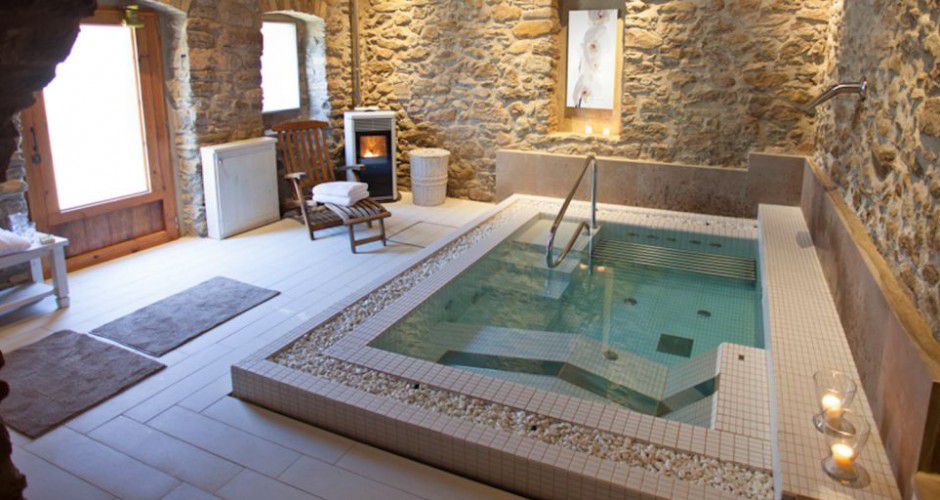 En el Hotel La Garriga de Castelladral hay un pequeño Wellness Spa, muy acogedor y cálido, para disfrutar de forma privada con la pareja o la familia. No falta ninguno de los esenciales: piscina jacuzzi, sauna, baño de vapor y también una cascada de aguas en una antigua tina de vino. Si deseas sentirte aún mejor, reserva uno de los masajes y tratamientos.
Este pequeño hotel familiar se encuentra en un lugar privilegiado del Bages, en una masía catalana. Las habitaciones del hotel están decoradas de forma única y tienen todas muy buenas vistas a la naturaleza de los alrededores. Un hotel de trato familiar y cercano, muy acogedor y en el que destacan elementos decorativos hechos con materiales y fibras naturales de artesanos locales.
Hotel Urbisol
Calders, Moianès, Barcelona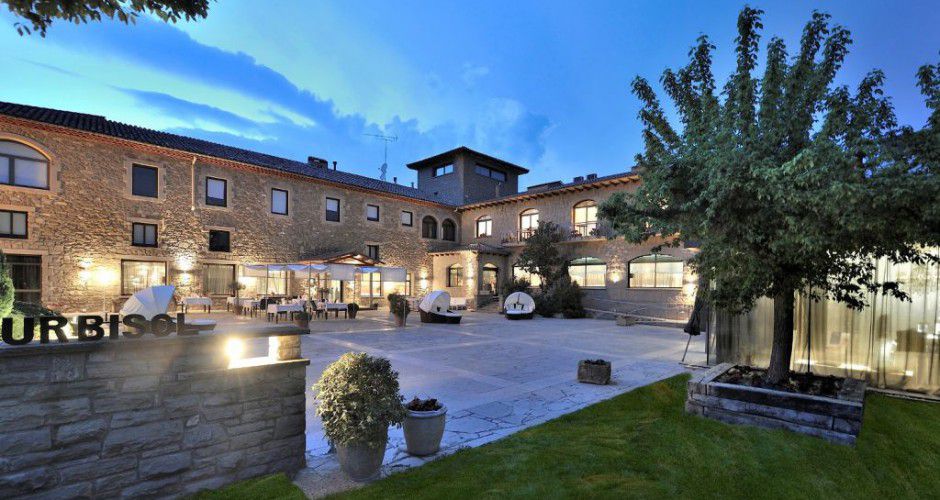 El silencio y la tranquilidad son las llaves que abren las puertas del Hotel Urbisol. Por ello, su spa es de "adults only" (sólo para adultos). Su listado de tratamientos e instalaciones es lo suficientemente grande como para pasarse todo el día en remojo: sauna, baño de vapor, piscinas exterior e interior, duchas de sensaciones, jacuzzi, zona chill out...
Tanto el spa como el restaurante están abiertos al público de fuera del hotel, para todo el que quiera pasar una jornada de relax a una hora de Barcelona. Junto al hotel hay Manresa y la montaña de Montserrat. ¡Estaréis en el corazón de Cataluña!
Hotel Cal Barber
Botarell, Baix Camp, Tarragona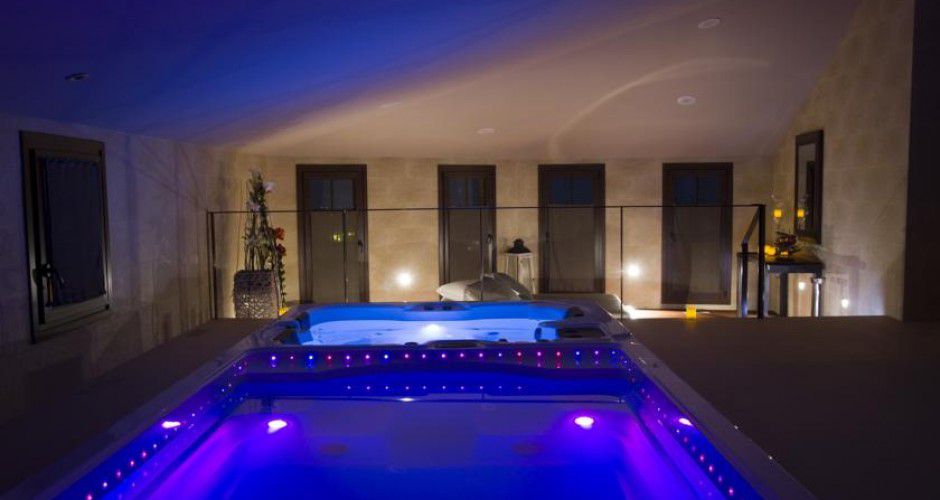 Cal Barber es un hotel romántico construido en una casa de 1798 reformada. La estructura antigua de las paredes de piedra y de la madera de los techos combinan de maravilla con las habitaciones de diseño. En la planta superior del hotel encontrarás el spa, que se cierra durante 90 minutos para cada pareja. Una hora y media de tranquilidad y relax, que se acompañan con una botella de cava.
Si te apetece ir a tomar el aire, en las inmediaciones del hotel hay Cambrils, Salou, Tarragona, Port Aventura y los vinos del Priorat.
Hotel Gastronómico Mas Mariassa
Pratdip, Baix Camp, Tarragona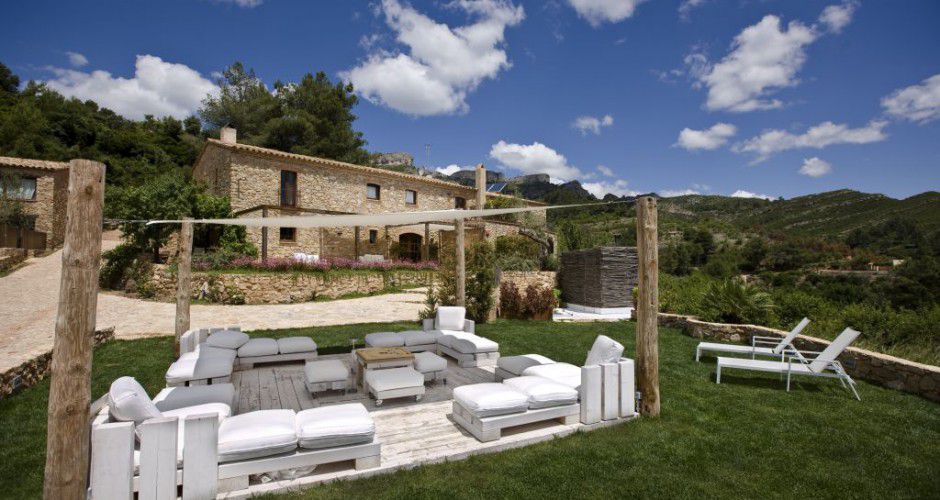 "Bienvenidos a Mas Mariassa, destino de bienestar emocional". Así se presenta este pequeño hotel gastronómico con mucho encanto y un pequeño spa que dispone de sauna y jacuzzi. En Mas Mariassa disfrutarás de intimidad, descanso y buena cocina. Está ubicado en medio de la naturaleza y la desconexión del día a día está garantizada gracias al paraíso de tranquilidad y silencio que se respira.
Todos los detalles están minuciosamente pensados para garantizar reposo y tranquilidad: tonos suaves, madera de roble, sábanas de algodón con un tacto suave, colchones ultra cómodos...
Hotel Villa Retiro
Xerta, Baix Ebre, Tarragona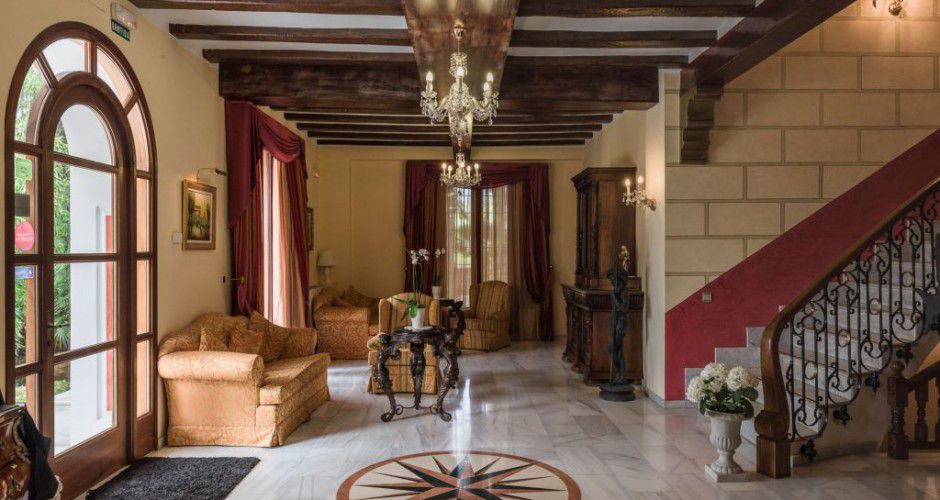 Cinco estrellas, un restaurante de estrella Michelin y un spa maravilloso son el resumen en números del Hotel Villa Retiro Monument & Spa, un remanso de paz y serenidad en las Tierras del Ebre. El edificio (del 1890) se encuentra en un entorno natural precioso.
Sus tratamientos se basan en tres pilares: la medicina Ayurveda, los tratamientos corporales y de belleza y el beneficio de la zona de aguas. Además, el acceso a la zona de aguas está abierto tanto a clientes del hotel como a los que quieren pasar un día relajante. Sin duda, un lugar ideal para desconectar del estrés diario y pasar un fin de semana tranquilo.