Getaways from the Purisima Bridge
Ya queda poco para uno de los puentes más esperados, el de la Purísima, y ​​es que diciembre es de los mejores meses para desconectar en un lugar mágico. Petits Grans Hotels de Catalunya te recomendamos tres hoteles espectaculares para poder aprovechar este inicio de mes disfrutando de una experiencia renovadora. ¿Quieres conocerlos?
Hotel La Freixeira, Solsona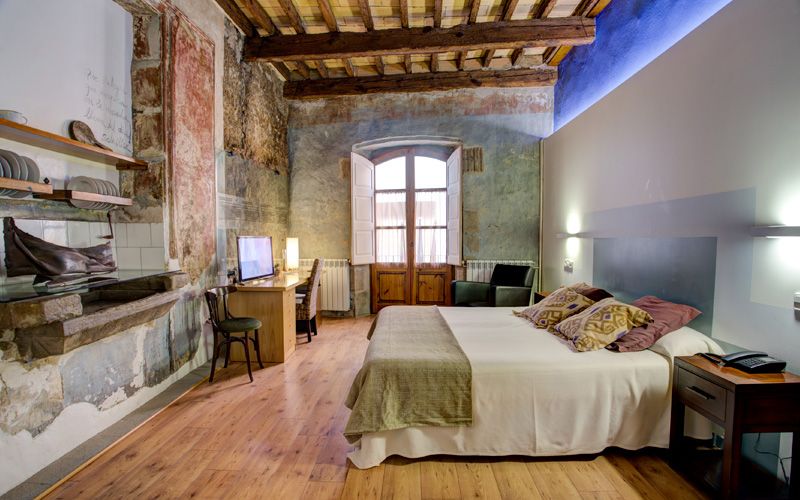 Descansa en una antigua casa de piedra y madera del siglo XIV pero con las comodidades de los hoteles más modernos. Situado en el casco medieval de Solsona, dispone de 10 habitaciones exteriores, amplias, luminosas y equipadas con todas las comodidades. Enamórate de las paredes de piedra, los forjados de madera, la chimenea...
Aprovecha para descubrir Solsona, la ciudad medieval amurallada mejor conservada de Catalunya. Su casco histórico conserva conjuntos patrimoniales románicos, góticos, barrocos y modernistas. El visitante también podrá descubrir la naturaleza en estado puro, el paisaje de la luz, la gastronomía rural, los deportes de nieve y montaña y las joyas arquitectónicas. Entre otras actividades, se puede visitar El Miracle, un monasterio donde también se elaboran quesos y hay una bodega. También se puede realizar senderismo, BTT, o ir a museos como el de las Motos o el de Solsona.
Hotel La Plaça de Madremanya, Madremanya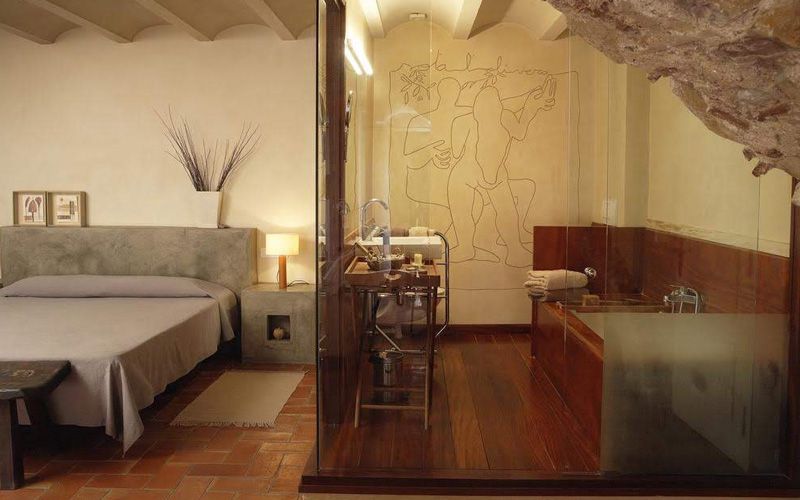 El Hotel La Plaça de Madremanya es un pequeño hotel romántico hecho para los más poetas. Situado entre el Gironès y el Empordà, es un pequeño paraíso en el que olvidarse de la rutina. Es un pueblo de aire italiano donde el tiempo, dormido, descansa. Una pieza clave de este paraíso es el Restaurante La Plaça, de cocina afinada y sutil, que resume su gastronomía con el concepto de cocina de la felicidad.
El Hotel te invita a disfrutar de sus habitaciones de una forma muy peculiar. Cada una de ellas tiene un nombre que tiene que ver con algún elemento natural. La mayoría de ellas se refieren a un tipo de árbol de la zona. Un ejemplo es la suite Les Pomeres, que con su sorprendente baño, pintado de azul o su magnífica chimenea, invitan al huésped a no querer abandonarla.
Madremanya y sus alrededores ofrecen una infinita gama de actividades: vuelos en globo por el Empordà, kayak por el Ter, los Karts, rutas como la de la Font Picant o el Pitch and Putt de Gualta. También puedes ir al Parque Natural dels Aiguamolls del Empordà, o vivir la cultura visitando el Museo de la Confitura o el Terracotta Museo.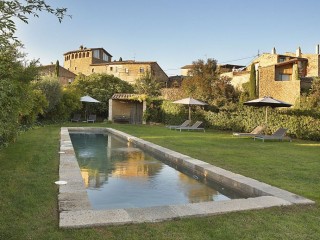 Old XV Century farmstead, in the centre of the medieval village of Madremanya. Stones, tiles, original barrel and Bohemian arches have survived and have been combined with present day finishes.
Hotel Urbisol, Calders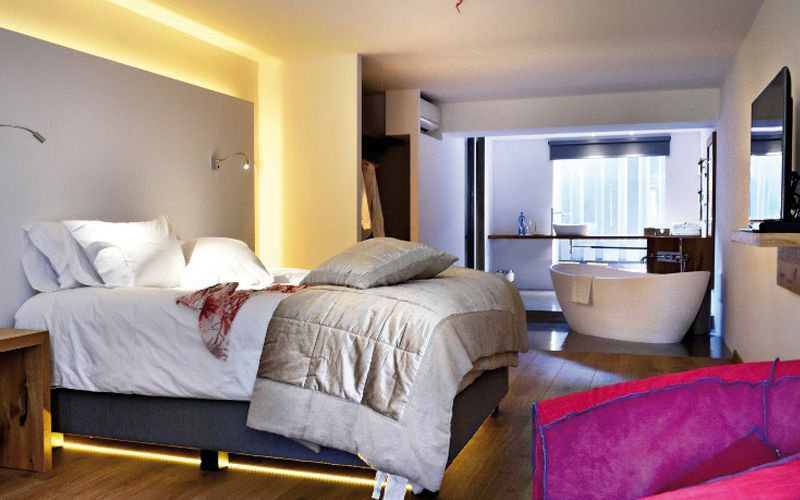 El Hotel Urbisol se encuentra en un lugar idílico rodeado de preciosas panorámicas en el centro de Catalunya. Es fantástico para disfrutar de un ambiente relajado en la naturaleza. Ofrece todo tipo de comodidades para convertir su estancia en una experiencia llena de buenas sensaciones.
Dispone de una piscina con preciosas vistas a la montaña, donde podrás relajarte contemplando el paisaje. Además, entre las instalaciones se encuentra el centro Spa donde podréis disfrutar de un gran confort.
Las habitaciones son ideales para quienes desean desconectar durante este puente: disponen de cama de matrimonio, baño completo, bañera de hidromasaje y vistas al Pirineo.
El restaurante se inauguró en 1972, integrado en el Hotel y con cocina familiar que combina la cocina tradicional catalana con la cocina moderna y de vanguardia. El Urbisol también ofrece otras actividades dentro o fuera del Hotel para los más deportistas, como clases de Yoga, paisajes en bicicleta, golf, excursiones o pícnics cerca. Para los más atrevidos, también existe la posibilidad de realizar excursiones en Quad, Segway, Parapente, Skydive, e incluso en globo.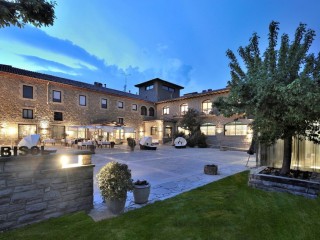 Ours is a modern luxury hotel with every type of facility to ensure that your stay will be pleasant and memorable. Our facilities will help you make the most of your time with us. You can enjoy the benefits of the SPA, the restaurant, the bar, the terrace, the residents' lounge with open fire, the childrens' play arera, the gymnasium or the outdoor pool. The hotel is situated in an idyllic location in the centre of Catalonia.

The hotel has 9 double rooms, 2 superior rooms, 1 suite with canopy bed and another suite with open fireplace and private terrace. All rooms have a double bed, fully equipped bathroom with hydro massage bath, bath robes, slippers, mini-bar, safe, TV, DVD, heating and air conditioning, Internet connection, telephone, views of the Pyrenees and parquet flooring throughout.

The restaurant was opened in 1972, incorporated into the hotel and specializing in home cooking which combines traditional Catalan cooking with modern cutting-edge cuisine. Our facilities lend themselves to romantic dinners, family meals or the celebrating of special occasions where you will be attended in a professional manner in elegant and comfortable surroundings.