Weekend getaway to the "secret" Montseny
Es viernes. Te apetece apagar el ordenador y que tus ojos solo vean árboles y montañas las próximas 48h. Estoy convencida de que si la wikipedia recogiera una definición para "una escapada perfecta", ésta sería un fin de semana en el Montseny.
Para mí, hay dos tipos de Montseny: el de los senderistas, con picos míticos de la geografía catalana como el Matagalls o el Turó de L'Home; y el de los que buscan desconectar y relajarse, rodeados de naturaleza y tranquilidad.
Yo hoy os hablaré del segundo grupo, en el que me incluyo.
Existe un Montseny "secreto", alejado de la carretera principal que cruza el parque, en el que abundan los rincones con encanto, la tranquilidad y unos paisajes espectaculares.
Un hotel hiper romántico
Nos encontramos en la zona de Cànoves, el tramo más septentrional del Parc Natural del Montseny. Y en medio de tanta tranquilidad, despunta el Hotel de Can Cuch, una masía catalana anterior al S.X, exquisitamente reformada y condicionada que ha convertido el hotel en un lugar selecto y encantador. ¡Un hotel hiper romántico a una hora de Barcelona!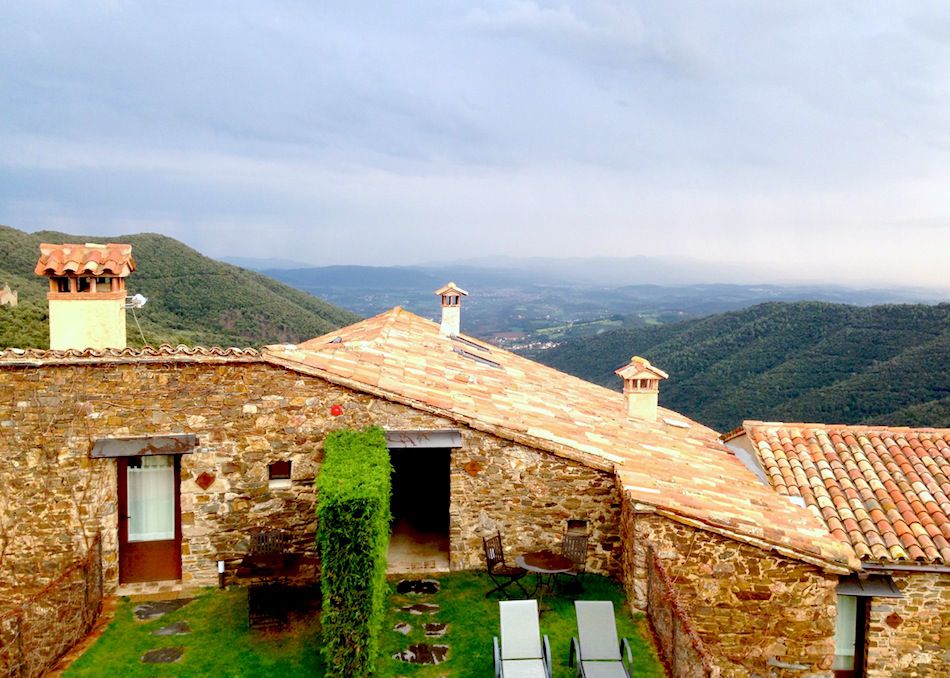 Que no os asuste la carretera de curvas peliagudas para llegar hasta Can Cuch. Las vistas, las habitaciones, los platos y la tranquilidad que se respira allí son incomparables.
Exquisitas vistas
Desde el restaurante de Can Cuch hay unas vistas absolutamente espectaculares (abierto al público, mejor reservar porque hay pocas mesas). Si conseguís separar la vista de los ventanales, os daréis cuenta de que en vuestro plato hay exquisiteces tradicionales cocinadas con materias primas del entorno, con un toque vanguardista y moderno.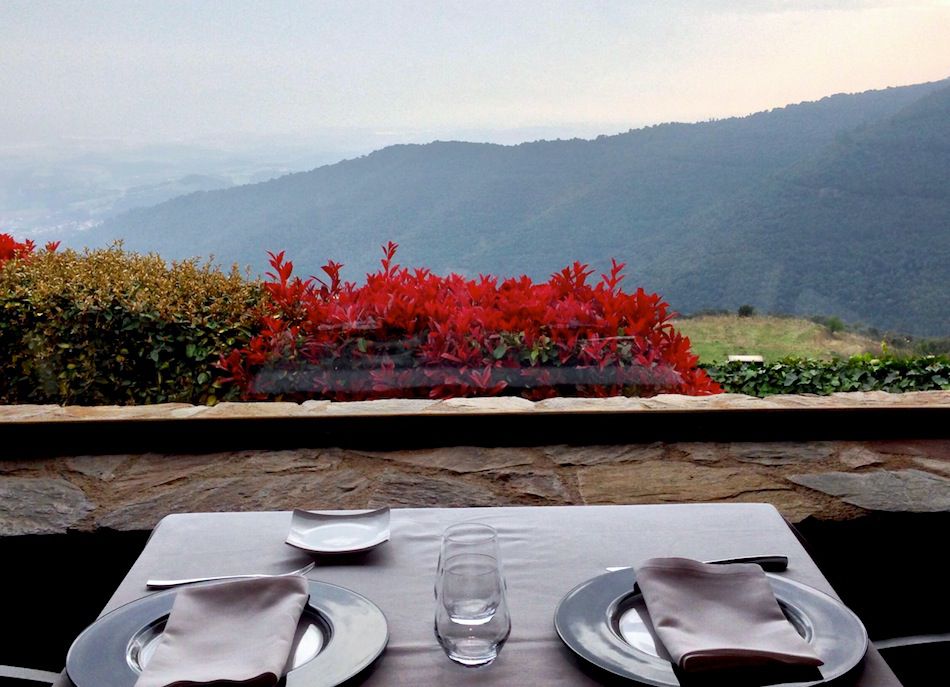 En los alrededores de Can Cuch, tenéis varios lugares con encanto del Montseny para descubrir:
Subida al Turó d'en Sui (Pla de la Calma)
El Sui es un pico que ofrece unas vistas fabulosas en un día claro. Si estáis en forma, no os será complicado subir los 600 metros de desnivel hasta llegar a los 1.300 (si empezáis en Can Cuch, ya estáis en los 700m). Contad al menos una hora de subida. Desde arriba, las vistas merecen (mucho) la pena.
Un paseo hasta el Castaño milenario
En un paseo muy agradable y fácil de algo más de 35 minutos (contad otra media hora de vuelta), llegaréis a uno de los árboles más antiguos de Cataluña. ¡Su tamaño enorme hace que incluso podáis verlo por dentro!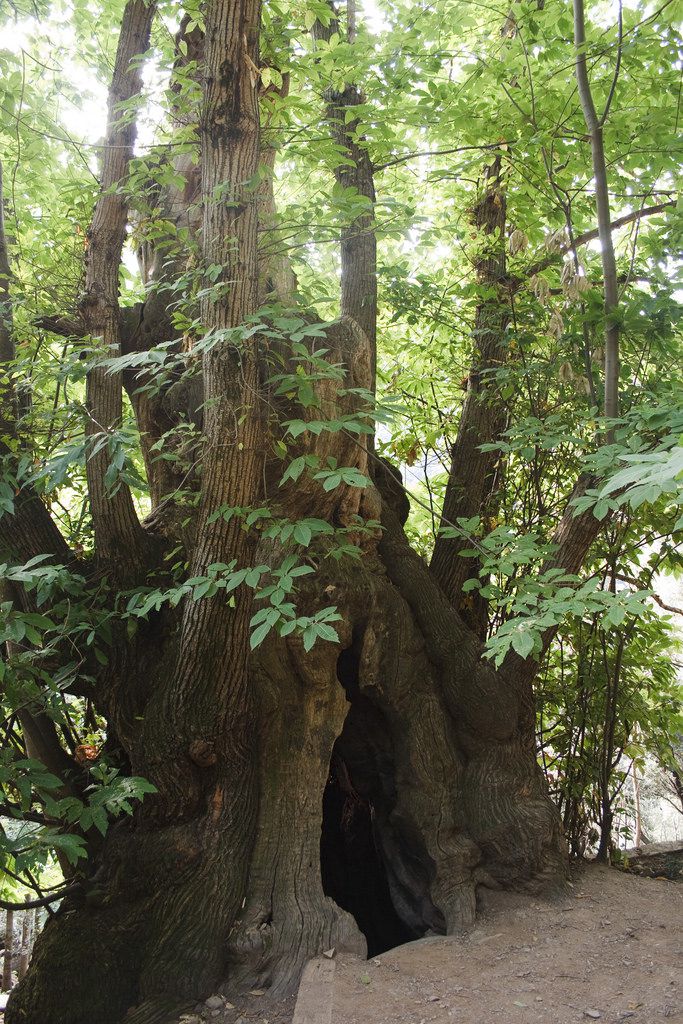 Los Pozos de Hielo
Éste es el lugar donde se almacenaba la nieve de la montaña para tener hielo durante el resto del año. En el Pozo de Can Cuch se encuentra la cresta que sube al Sui y al Pozo de Bessa, que está en muy buen estado de conservación.
Los Dólmenes de la Sierra del Arca
En la Sierra del Arca entre los municipios de El Brull y Aiguafreda se esconden una docena de dólmenes, entre los que sobresale, por sus dimensiones y el buen estado de conservación, el Gran Dolmen de Aiguafreda.
El Poblado Ibérico de Samalús
Situado en Cánoves y Samalús, este imponente asentamiento ibérico estuvo habitado durante más de cuatro siglos. Hasta el momento ya se han encontrado dos murallas y nueve torres, aunque aún no se han terminado los trabajos de excavación.
La Villa Romana de Can Terrés
Durante más de 700 años, ésta fue una importante explotación romana, dedicada al cultivo de la viña y el olivo. Los restos de la villa romana y las termas de Can Terrés son del siglo I. Se encuentran en La Garriga.
Y precisamente en La Garriga está el Hotel-Boutique Edelweiss, un hotel modernista que os encantará por su singularidad, exclusividad y encanto interior. Dispone de solo 4 habitaciones así que os sentiréis en un ambiente muy íntimo y acogedor.